The man whose lovely looks not only flattered the heroines on screen, but also the ladies off screen…The man whose romantic songs created joy and energy among the youth…The man whose action mesmerized the audience and filled the theatre with whistles and applauses…is none other than SHASHI KAPOOR. Though he is not with us today, he will always stay alive in the hearts of the filmy fans.
Shashi Kapoor's career has a special place in Bollywood. Carrying the legacy of his father Prithviraj Kapoor, he proved his talents in acting. Being an awardee of Padma Bhushan, Dada Saheb Phalke, he was one of the most busiest and well-known actors of that age for many decades. He was so busy that, at one point of time, the no.of films that he signed were more than a hundred!! His entire life journey is an open book and inspiring to the young generation.
Birth And Marriage
Shashi Kapoor was born in 1938 as Balbir raj Kapoor, the youngest of Prithviraj Kapoor's brood of three sons and a daughter. Young Shashi imbibed the art of performance at an early age as he toured the country along with his thespian father Prithviraj Kapoor and his famous stage company Prithvi Theatre. He made his stage debut at six. At 12, he had already made his mark with a perceptive performance as the young Raj Kapoor in Awaara (1951).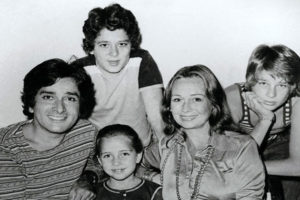 In his teens, though he couldn't speak English too well, Shashi fell in love with an English rose, Jennifer Kendall. He was working for Prithvi while she was an actress in her father Geoffrey Kendall's repertory company, Shakespearean. After some initial resistance from the families (but with support from Shashi's sister-in-law Geeta Bali) the two were married in 1958. They have two sons – Karan, Kunal and a daughter- Sanjana, all of whom for a short while became actors.
Film Career
With a wife and new baby Kunal to support, Shashi looked towards entering films as a hero. Brothers Raj and Shammi were already successful film stars. He was greeted enthusiastically by the industry in the early 1960s with Yash Chopra (Dharmaputra) and Bimal Roy (Prem Putra) signing him on, but the films didn't do well. Shashi was reduced to medium budget films like Holiday In Bombay with Vijaya Chowdhary and Yeh Dil Kisko Doon with Ragini.
Shashi's breakthrough came with Waqt and Jab Jab Phool Khile, released within a couple of months of each other in 1965. In the latter, he plays an exuberant shikarawala who falls in love with a memsaab but whose spirit is crushed when she transplants him to the city. Shashi was truly endearing in the film.

Yash Chopra's Deewar (1975) had Shashi in a role which Rajesh Khanna was originally considered for. It eventually won him the Best Supporting Actor Award. Playing the soldier of truth, Shashi mouths the line "Mere paas maa hai" ,which went on to become one of the most famous lines of dialogue in Hindi cinema.
Man Of Good Taste
In a career that spanned a quarter century, Shashi Kapoor could have coasted along with his blue eyes, blue blooded Kapoor heritage and easy charm, which he flitted through moneyspinners like Jab Jab Phool Khile and Chor Machaye Shor. But Shashi Kapoor believed in pushing the envelope, while remaining rooted in commercial cinema.
Right from the 1960s, Shashi did pivotal roles in some much-discussed English films like [Ismail] Merchant-[James] Ivory's Bombay Talkies and Heat And Dust, as well as Conrad Rooks' Siddhartha, becoming one of the most recognisable Indian actors in the West.
Rooks' Siddhartha was esoteric and a little opaque, but fuelled by its bold scenes, it became a cultural landmark.
In Hindi films, too, Kapoor fortuitously believed in ploughing back some of the millions he earned from the multitude of inane potboilers he starred in to produce films with the likes of Shyam Benegal, Aparna Sen, Govind Nihalani and Girish Karnad. Blessed with a famous sense of humour and with a rare pragmatism, Shashi didn't try to hold onto his youth in the early 1980s. He produced Vijeta for Govind Nihalani and cast his son Kunal as hero and himself as the father. He also bankrolled Aparna Sen's heart-wrenching 36 Chowringhee Lane with wife Jennifer in an unforgettable performance.
Kendall's Death
The actor who took pride in keeping himself slim and trim all through the early part of his career, let himself go to seed after the untimely demise of his wife, Jennifer Kendall Kapoor in 1984. He also surrendered to the Kapoor tendency to put on weight. He was so heartbroken that he lost the will to live for a long time after her death. Those who visited him in the 80's often saw a sadness in his eyes that stayed with him almost till the end.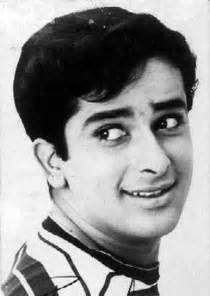 He might be physically away from the world today, but his acting and eternal beauty will always be remembered and cherished.