Do you watch Hollywood movies? Truly, Hollywood movies charm us with their realistic touch, meaningful storytelling and deeply meticulous performance. No wonder we look at them with great reliance, expectations of divine inspiration and some of us even picturize ourselves working in that magical industry. But let us be clear about one thing- not all is well in Hollywood.
Give yourself a minute and think about all the Hollywood actors and actresses you know. Your mind must be flashing Tom Cruise, Angelina Jolie, Robert Downey Jr., Scarlett Johansson, Julia Roberts, Ben Affleck, Tom Hardy, Sandra Bullock, Jennifer Aniston, and Christian Bale all staring, smiling in a monochrome background. Now ask yourself- How many of them were African-Americans? There might be a jolly Will Smith peeping at you or a wise Morgan Freeman simply looking at you with a calm breath, steady smile and an inescapable look. But how far do we go than the simple reception of the screen presence of most African-American actors?  Does skin colour matter more than talent even today? You may agree or disagree but today racism is real because it is mostly subconscious.
The 88th Academy Awards created buzz, not just because the great Leonardo Dicaprio finally got his Oscar but also because the Academy was criticised for being racist. Though it had an African American (Chris Rock) as its host, Spike Lee pointed out that it was the second consecutive year where no nominees in the acting categories were black. It is also true that only 11.2% of all Academy Awards winners are non-white. When Chris Rock said it in his monologue- "We want opportunities, we want the black actors to get same opportunities as white actors. Not just once. Leo gets a great part every year and everybody gets great parts all the time but what about the black actors?" the little movie-buff heart in me went "Aye Aye Chris!" It is true that we only see black actors and do not really try to know them and still put their colour first before their talent.
So, here are only some of those great actors who can shiver our spines with their acting-  
She is best known for role as the sassy Minny Jackson who made Hilly Holbrook eat her excreta for treating black maids in a cruel manner. She even might be the female form of Morgan Freeman- steady eyes, a calm smile and dialogue delivery that echo in the brain. She had done many minor roles like the woman who registered Tobey Maguire in the Boxing Match in Spiderman but it was her performance in The Help that won her an Oscar.  She was born in a family of six siblings and a mother who worked as a maid. She received a Bachelor's degree in Liberal arts from the prestigious Auburn University. Watch more of her groundbreaking performances on Get On Up, Fruitvale Station and the upcoming movie Hidden Figures.
Known for his performance as Karl Mordo in Dr. Strange, Solomon Northup in '12 years a Slave' and Dr. Adrian Helmsley in '2012', Chiwetel Ejiofor is a big name in the world of movies, theatre and television. He received the Commander of the Order of the British Empire in the 2015 along with so many awards and nominations for BAFTA, Academy Award, Golden Globe, Critics Circle Theatre Awards and many more. Ejiofor was a part of the National Youth Theatre. He lost his father in a car accident when he was 11. He has been awarded by the GEANCO award for his charity work in Nigeria and also has made contributions to the United Nations Development Programme. There are few actors who can speak a lot without saying much. Ejiofor is one of them.
The Julliard Graduate was born to a horse trainer and a maid who was also a civil rights activist. Davis has described her childhood as "abject poverty and dysfunction." Programs like TRIO Upward Bound and TRIO Student Support Services helped getting her an education. Davis is known for her groundbreaking performance in The Help as Aibileen Clark for which she was nominated for an Academy Award. She has also earned laurels in television and theatre as well. She also became the first black woman of any nationality to win the Primetime Emmy Award. She has raised her voice to end hunger, sexually-abused victims and has also devoted herself towards charity to improve the economically depressed community she grew up in. Her last scene in The Help tells you how great an actress she is. Those teary eyes, those fearless words and that boldness when she asks, "You are a godless woman, ain't you tired Miss Hilly? Ain't you tired?" Shivers.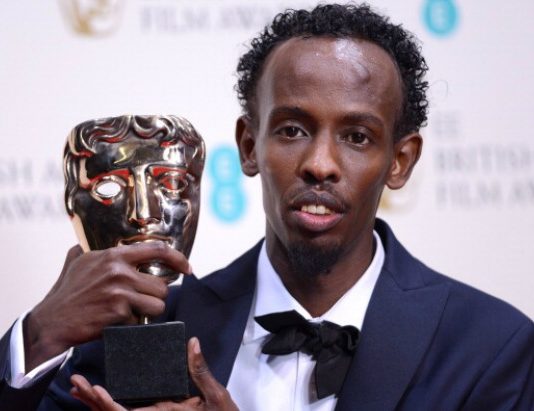 Barkhad Abdi gave his first performance in Captain Phillips which earned him as Oscar nomination and many others but there is much more to know about this Somali actor. He was born in the war torn Somalia and his family had decided to move to Yemen when situations got worse. He came to America after winning a green card lottery and worked as a limousine driver and sold mobile phones for a living. He had to drop his schooling as he had no money. Surprisingly he never had any ambition in acting and got his role as the lead pirate in Captain Phillips because the role needed a Somalian and acting came naturally to him. Get ready to get glued to him when he looks Tom Hanks in the eyes and says, "I am the captain now." Now the actor is expected to be seen in the Blade Runner 2049 and The Extraordinary Journey of the Fakir.
Once you see her on screen, your eyes will not see anybody else. She is quite a familiar face and appears as Janine Davis in The Big Bang Theory as well. Her notable works have been in Miss Congeniality 2, Enemy at the Gates, A Cinderella Stories but it was her role as Marcee Tidwell in Jerry Maguire and Margie Hendricks in Ray that made her stand out as an outstanding artist. She mostly plays the role of a black outspoken woman and she herself says, "My biggest challenge will be to play the totally submissive woman. It takes a toll on you when you play someone who's far removed from your personality." She definitely knows how to shut everybody's mouth. Watch her movies for more of her energetic performances.
He is definitely a star of Hollywood but very few people talk about his performance as Nathaniel Ayers in The Soloist, Curtis Taylor, Jr. in Dreamgirls and his portrayal of Ray Charles in the movie Ray. Foxx is an entertainer- a comedian, a singer, a song writer and an Academy Award winner who truly can leave people in an awestruck with his amazing body language, charm and effortless acting. His role as Django in Django Unchained where he played the role of a slave gave him a nomination for the Black Reel Award for Best Actor. He described it as an 'emotional' time and said, ""It's tough shooting when you're in plantation row and that's where your ancestors were persecuted and killed."
Most African- American actors have played characters facing racism in many movies. Films can speak to us in so many ways and give us things to think upon. The first ever African American Actor to ever win an Oscar was Hattie McDaniels and during her acceptance speech she said, "I sincerely hope I shall always be a credit to my race and to the motion picture industry. My heart is too full to tell you just how I feel, and may I say thank you and God bless you." Sadly, Hattie and her escort were made to sit on a segregated table for two in the Academy Awards of 1940. Hattie will be disappointed as we still have a long way to go.