Dr. Avul Pakir Jainulabdeen Abdul Kalam, commonly known as Dr. A.P.J. Abdul Kalam was the President of India from 2002 to 2007. He was a scientist by profession but later turned into a popular figure and such was his popularity that the then government of NDA proposed him for the Presidentship of the country and was also supported by the opposition party of Indian National Congress for his candidacy. After completing his aeronautical engineering degree, he spent the next four decades of his life as a scientist and a science administrator. He was mainly associated with the Defence Research and Development Organisation (DRDO) and the Indian Space Research Organisation (ISRO). For his devoted involvement in India's civilian space programme and military missile development efforts along with his work on the development of ballistic missile and launch vehicle technology, he came to be known as the "Missile Man of India".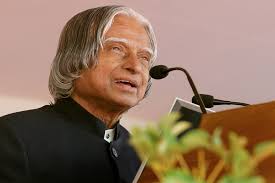 Early Life of Dr. A.P.J. Abdul Kalam
Dr. A.P.J. Abdul Kalam was born in the year 1931 to a Muslim family in the state of Tamil Nadu. His ancestors were very wealthy but during his early childhood days, his family became poor. He started selling newspapers in order to add-on to his family`s income. He had average grades during his early school life but was often described by his teachers as a hardworking and a bright student who wanted to learn. He used to spend a lot of time studying and especially studying Mathematics. He graduated in Physics from the University of Madras in the year 1954. In 1955, he joined Madras Institute of Technology to study aerospace engineering. He would have accomplished his dream of becoming a fighter pilot had he got one position higher in the qualifiers. He was placed ninth in the qualifiers but to his discomfort, there were only eighth positions available in the IAF.
Dr. A.P.J. Abdul Kalam Life as a Scientist
After completing his engineering degree from the Madras Institute of Technology in 1960, Dr. A.P.J. Abdul Kalam became a member of the Defence Research & Development Service (DRDS). He later joined the Aeronautical Development Establishment of the Defence Research and Development Organisation as a scientist. After his transfer to the Indian Space Research Organisation (ISRO), he led the project of India's first Satellite Launch Vehicle which successfully deployed the Rohini satellite in near-earth orbit in the year 1980.
In the 70s, Dr. Kalam also became the director of two projects, Project Devil and Project Valiant, whose aim was to develop ballistic missiles from the technology of the successful SLV programme. The then Union Cabinet disapproved these projects, but the then Prime Minister Indira Gandhi`s faith in Kalam made her grant secret funds for these aerospace projects through her discretional powers. His research and educational leadership brought him great praise and stature during the 1980s, which triggered the administration to commence an advanced missile programme under his directorship. Dr. A.P.J. Abdul Kalam played a crucial role in the development of missiles such as Agni, an intermediary range ballistic missile, and Prithvi, the prudent surface-to-surface missile.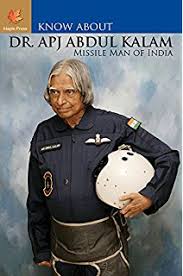 Dr. A.P.J. Abdul Kalam was appointed as the Chief Scientific Adviser to the Prime Minister and Secretary of the DRDO from July 1992 to December 1999. The famous Pokhran-II nuclear tests were escorted during this tenure of him in which he played a crucial political and technological role. Later, Dr. Kalam served as the Chief Project Coordinator, along with Rajagopala Chidambaram, during the testing phase. Due to all his crucial roles, during this period, made him the country's best known nuclear scientist.
In the late 2000s, he along with cardiologist Soma Raju developed a low-cost coronary stent, known as the "Kalam-Raju Stent". In the year 2012, the duo drafted a durable tablet computer for the purpose of health care in rural areas, known as the "Kalam-Raju Tablet".
Dr. A.P.J. Abdul Kalam as President
Dr. A.P.J. Abdul Kalam became the 11th President of India. His tenure as a president lasted from 25 July 2002 to 25 July 2007. He was popularly known as the "People`s President".
On 10 June 2002, the then government of NDA, expressed that their candidate for the Presidentship would be Dr. Kalam and was rightfully supported by the opposition party also. He is the only scientist and bachelor to be the President of India. He is only the third President of India to have been honored with the Bharat Ratna, India's highest civilian honor.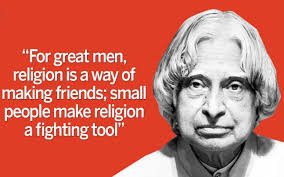 After his first tenure as a President got over in the year 2007, he was willing to hold the office for another term but did not get support from the political parties and thus refused to contest the election. However in 2012, after the media reported that Kalam was likely to be nominated for his second term as President, social networking sites witnessed a number of people supporting his candidature. With political parties willing to support him and later refusing to, Dr. Kalam refused to contest and expressed his views to the people, "Many, Many citizens have also expressed the same wish. It only reflects their love and affection for me and the aspiration of the people. I am really overwhelmed by this support. This being their wish, I respect it. I want to thank them for the trust they have in me."
Last Days of Dr. A.P.J. Abdul Kalam
Dr. Kalam used to give guest lectures at the Indian Institute of Management Shillong, the Indian Institute of Management Ahmedabad, and the Indian Institute of Management Indore. He became the chancellor of the Indian Institute of Space Science and Technology Thiruvananthapuram; professor of Aerospace Engineering at Anna University; and an adjunct at many other academic and research institutions across India.
In the year 2012, Dr. Kalam launched a programme for the youth of India called the What Can I Give Movement, with the main aim of defeating corruption.
On 27 July 2015, Dr. Kalam traveled to Shillong where he was required to deliver a lecture on the topic, "Creating a Livable Planet Earth" at the Indian Institute of Management Shillong. He experienced some discomfort while he was climbing a flight of stairs in the university but was later able to enter the auditorium. Around 6:35 p.m., only five minutes into his lecture, he collapsed. He was rushed to the nearby Bethany Hospital in a critical condition. Despite being placed in the ICU, Dr. Kalam was confirmed dead of a sudden cardiac arrest at 7:45 p.m.
His last words, to his aide Srijan Pal Singh, were reported: "Funny guy! Are you doing well?"
Numerous tributes were paid to the former President of India across the nation and also globally. The Government of India declared a seven-day state mourning period as a mark of respect. The Prime Minister Narendra Modi said "[Dr. Kalam's] death is a great loss to the scientific community. He took India to great heights. He showed the way." Former Prime Minister Dr. Manmohan Singh, who had served as the prime minister under Kalam, said, "our country has lost a great human being who made phenomenal contributions to the promotion of self-reliance in defense technologies. I worked very closely with Dr. Kalam as prime minister and I greatly benefited from his advice as president of our country. His life and work will be remembered for generations to come."
The Bhutanese government ordered the country's flags to fly at half-staff to mourn Kalam's death and lit 1000 butter lamps in homage. Bhutanese Prime Minister Tshering Tobgay expressed deep sadness, saying Kalam "was a leader greatly admired by all people, especially the youth of India who has referred to him as the people's President". Bangladesh Prime Minister Sheikh Hasina described Kalam as "a rare combination of a great statesman, acclaimed scientist, and a source of inspiration to the young generation of South Asia" and termed his death an "irreparable loss to India and beyond". Nepalese Prime Minister Sushil Koirala recalled Kalam's scientific contributions to India: "Nepal has lost a good friend and I have lost an honored and ideal personality." Dalai Lama expressed his sadness and offered condolences and prayers, calling Kalam's death "an irreparable loss".
United States President Barack Obama extended "deepest condolences to the people of India on the passing of former Indian President Dr. APJ Abdul Kalam", and highlighted his achievements as a scientist and as a statesman, notably his role in strengthening the US–India relations and increasing space co-operation between the two nations. "Suitably named 'the People's President', Dr. Kalam's humility and dedication to public service served as an inspiration to millions of Indians and admirers around the world." Russian President Vladimir Putin expressed sincere condolences and conveyed his sympathy and support "to the near and dear ones of the deceased leader, to the government, and entire people of India". He, remarked on Kalam's outstanding "personal contribution to the social, economic, scientific, and technical progress of India and in ensuring its national security," adding that Dr Kalam would be remembered as a "consistent exponent of closer friendly relations between our nations, who has done a lot for cementing mutually beneficial Russian–Indian cooperation." In a special gesture, Secretary-General of the United Nations Ban Ki-moon visited the Permanent Mission of India to the UN and signed a condolence book. "The outpouring of grief around the world is a testament of the respect and inspiration he has garnered during and after his presidency. The UN joins the people of India in sending our deepest condolences for this great statesman. May he rest in peace and eternity", Ban wrote in his message.
Awards and Honors
Dr. A.P.J. Abdul Kalam received many honors and awards for his great contribution as a scientist and as a person. Dr. Kalam received seven honorary doctorates from around forty universities. He was honored by the Government of India for his work with ISRO and DRDO and his role as a scientific advisor to the Government in the year 1981 with the Padma Bhushan and the Padma Vibhushan in 1990. In the year 1997, Dr. Kalam was honored by India's highest civilian honor, the Bharat Ratna. In the year 2013, he received the Von Braun Award from the National Space Society "to recognize excellence in the management and leadership of a space-related project".
After his death, the Tamil Nadu state government announced that his birthday, 15 October, would be observed across the state as "Youth Renaissance Day".