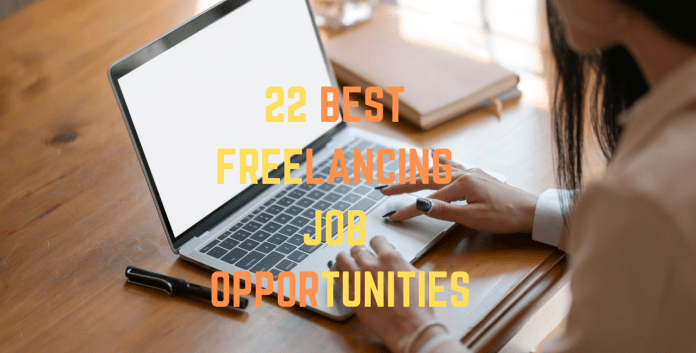 These days due to COVID-19, most of people are working from home and many companies had fired their employees due to the COVID-19 mess in the business and organizations. So there is a great opportunity to freelancing these days. In this blog, I will discuss the 22 best freelance Jobs Opportunities that can help you to earn from home.
Many companies need people on a freelance basis, simply you've to search for suitable freelance jobs on varied platforms like Freelancer.com, Guru.com, Upwork, and others. Several jobs are available on the above-stated freelancing sites, but I will discuss the most important freelance jobs that can help you to make a lot of money.
Popular Freelance Jobs are as under:-
Freelance online Teaching
Many online learning platforms want tutors for teaching online for varied subjects. This simply needs the skills of a particular subject. You need to be a little familiar with online teaching and must be familiar fully with your subject. For teaching, you have to use Skype and Zoom. This way of teaching is not a tough job. Here simply you have to give your lecturer to students and take their doubts. The subjects that you can teach online are Physics, Chemistry, Mathematics, Biology, Computer Science, and others. You just need to have a mic, laptop, good quality camera with you.
Web Development and Designing
Due to digitization, many people need their website, so for website designing, one must need a web developer. On a freelance basis, you can earn a pretty good amount by making just a simple website. If you are conversant with coding, then you are all set to do web development on a freelance basis. Some common programming languages like HTML, CSS, PHP, .Net, Java, etc is needed to know. Not all the language, but yes you need to be fully familiar with any of these. These days WordPress websites are highly in demand. If you know WP, then you can all set to explore freelancing opportunities in web development.
Freelance Writing and Copywriting
Every website needs content. As content is king, so it would be very difficult for the website to sustain without its king. Writing primarily includes web content writing, blog writing, article writing, copywriting, ghosting writing, academic writing, and PR writing. You must be capable of producing unique and easy-to-understand content. There should be no grammatical or plagiarism issues in your content.
Sales and Marketing
You can do sales only if you have a lead. Sales and marketing can be an easy task for those who have prior experience in this field. Marketing involves varied kinds of marketing like social media marketing, email marketing, Affiliate marketing, etc. You don't need to go anywhere, simply use any social media platform for showcasing particular services to the targeted audience.
Search Engine Optimization /Search Engine Marketing
SEO plays an important role in the website to get rankings in SERP(Search engine results page). Many companies want regular SEO auditing for their websites. SEO freelance work is not so tough as other ones. You must be expertise in link building, Panda effect, and other SEO tools.
Freelance Creative Design
Creative designing is something that allows designing something that can pull the attention of others by adding creativity in that. It includes any PowerPoint presentation with Adobe photoshop. The person who works in advertising for creating various materials like products and brochures. The client you get for freelance creative design is basically from advertising industries.
Also Read-Top Ten Online Courses on the Internet Right Now.
Game Development
Game development is very much trending these. When PUB-G is banned, many game developers started investing their time in making similar kinds of games to engage more users. Games can be played either online or offline. You must be conversant with SDK and gaming. There are different game development platform that a freelance game developer must know.
Graphic Designing
There are lots of freelance graphics designer jobs on freelancer, Upwork, Fiverr, and even on different Facebook groups also. Graphic designers need to create graphics for electronic and printed media. For getting the client in graphic designer, you must completely conversant and have some hands to hands experience in graphics designing.
Also Read
A career in Fashion designing: All you need to know about it
Entrepreneurship and Entrepreneurs: The Path Worth Paving
Mobile App Development
The way of creating apps that execute on mobiles and deploy a network connection for working with remote computing resources is called mobile app development.
You need to learn objective C and swift for creating good apps.
Also Read- Top 5 reasons to learn Ethical Hacking in 2020-21
Data Entry Jobs-The Most searched Freelance Jobs
Data entry job is something that anyone can do, even if you're a school student, you can spare some time from your studies, then you can earn simultaneously. Here in data entry, you have to look at the images and have to add them to the word file. Also, you have a great typing speed in data entry work.
Also Read-10 ways by which Homemakers can turn to Entrepreneurs and much more!
Branding and Public Relations
As a freelance branding and PR professional, it's central to have a distinct new business outreach process and to offer yourself weekly to growing potential new relationships while surpassing prospects among your current roster. The campaign that you are going to track will be on the Internet.
Also Read- Qualities of Good Brand Developers
Human Resource Management
HR manager does planning, implementing, and evaluating employee relations and different human resources policies, programs, and practices. The main role is to Maintains the work structure by regularly updating job requirements and job descriptions for all positions.
If you have prior 1-2 years of experience of working as an HR, then it is easy for you to gran a freelance HR job.
Admin Support or Assistance
Admin supports are those people who assist the company. This assistance includes answering phone calls, speaking with clients, assisting the company in clerical works, general office management, data entry, or some varied tasks.
If you are conversant in tracking various things via calendar like appointments and meetings then admin support is good for you.
Also Read-Aviation career in India: top colleges, scope and courses offered
Photography
If you have the passion for doing something then you are all set to get a job in photography too. Some people have photography as their hobby but without knowing the fact that photography can make a lot of money too. Simply You must have edited as well knowing creating retouching effects for the images.
Customer Service
If you are having great communication skills then you can easily do customer service executive job. The main role of the customer service executive is to handle the questions as well as the complaints of the customers. Moreover, he/she have to give services details and answer every query of the customer very diligently.
Social Media Manager/ Coordinator and Community Manager
If you are aware of social media posting and have knowledge of interacting with people over various social media platforms, then this is a great opportunity for you. In this simply, you have to manage and monitor all social media handles of the company for which you will be working as a freelance social media manager.
Also Read- Top 12 Reasons to choose "Digital Marketing" as a career
Translation
If you are knowing multiple languages, then translation jobs in freelancing can make you a lot of money. Here in this simply you need to translate the content from one language to another. But the thing is you must have proper knowledge of German, English, French languages.
Curriculum Developer
Yes, you can work as a curriculum developer and that from your own space. You need an educational background, there's a lot of opportunity for curriculum content writing and development. It can be different and variable from elementary schools to graduate degree programs.
Wellness Coach
People these days are becoming more health-conscious. Also, the COVID19 outbreak has forced them to do so. By becoming a wellness coach, you can assist people in creating a healthy lifestyle. This can be possible by adopting some healthy habits. You can have a group session with your clients and earn good bucks by this.
Also Read- Why Should You Opt For Cyber Security As A Career Right Now?
Personal Fitness trainer
Personal trainers are highly in demand, people hire their trainers who help them in performing particular exercise and activity that can make them fit and fine.
Also Read- Top 5 Yoga Asanas That Can Help People With Insomnia
Voice over artist
Many films and TV series have some voice in their trailer. Have you ever realized who is behind that voice? These are done by a voice artist. Voice artists can earn good money as voice artists are needed in commercials, films, TV series, cartoons, and web series.
LEGAL FREELANCE JOB
Those people who have a legal background, there is good news for them also. Some clients demand legal writing services, IP and trademark guidance, and patent information. Some startup companies need legal advisors, so freelancing on legal work can be a good income source.
Final Thoughts
Freelancing brings a lot of opportunities for you. If you're jobless this time, yes freelancing can work for you. But the condition is that you need to be fully conversant in any of the above-stated skills. Even freelancing helps you in making a lot of money by simply working on one simple project. In this blog, I have discussed 22 best freelancing job opportunities from home. I hope this blog has given some relevant information to you. In case if you are having any doubts, ask me freely in the comment section and also share your views on which topic should I cover next?
Also Read- 13 Tips to be successful freelancer in 2020