VEERAPPAN- SANDALWOOD SMUGGLER AND DACOIT OF INDIA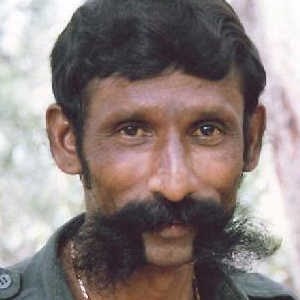 I recently saw the movie 'Veerappan', directed by the well known director Ram Gopal Varma." A society gets the criminal it deserves". Ram Gopal Varma bases his Veerappan on this Voltaire quote. Varma chronicles the life and times of India's most notorious criminal Veerappan in this film but it doesn't portrays the feelings and thoughts of the criminal rather, the film focuses on the various attempts by the Special Task Force to capture and kill the criminal, ending with the night of 18th October 2004 that resulted in the execution of Veerappan!
I was astonished to find out that the movie was based on a true story of the most dangerous and notorious dacoit and sandalwood smuggler of all times. The movie propelled me to find out more about this dacoit. During my study, I found out that Veerappan has dominated media since his time. There are several movies as well as books that were based on him, like,
     1) Movies:
          Attahasa is a 2013 Kannada biopic film directed by A. M. R. Ramesh, based on the notorious forest              brigand Veerappan. After much delay in the theatrical release, the film was opened to screens on 14 February 2013 all across Southern states of India.
Jungle- a Ram Gopal Varma film loosely based on slain bandit Veerappan.   
Captain Prabhakaran- a Tamil film loosely based on the bandit. 
     2) Books:
Veerappan: India's Most Wanted Man by Sunaad Raghuram. The film Let's Kill Veerappan is based on a chapter in this book.
Birds, Beasts and Bandits: 14 days with Veerappan is a book written by Krupakar and Senani, who were kidnapped by Veerappan in 1998.
CRIMINAL LIFE
Koose Muniswamy Veerappan (18 January 1952 – 18 October 2004), commonly known only as Veerappan was a notorious Indian brigand and dacoit in India. He was active for nearly 30 years in the scrub lands and forests in the states of Karnataka, Kerala and Tamil Nadu. Veerappan began his career in crime in 1970 and was first arrested in 1972.  Veerappan initially developed as a sandalwood and ivory smuggler, killing elephants for the latter. He later started killing those who resisted his activities. He committed his first murder at the age of 17 and his victims tended to be police officers, forest officials, and informants.  He also kidnapped various actors like Rajkumar, H.Nagappa etc. He regularly killed anyone suspected of being a police informer. Because of political instability, Veerappan could easily escape from one state to another.
FAMILY
Veerappan married Muthulakshmi and is said to have strangled one of their children soon after birth because she was their third successive girl. His wife reportedly appreciated his "notoriety and moustache" and married him because of that. As of 2004, his two other daughters were studying in Tamil Nadu.
DEATH
On 18 October 2004, Veerappan and two of his associates were killed by the Tamil Nadu Special Task Force headed by K Vijay Kumar. The killing happened near the village of Papparapatti in Dharmapuri district, Tamil Nadu. Veerappan and his men were lured into an ambulance by an undercover policeman under the pretext of taking them to Dharmapuri for medical treatment. The Tamil Nadu Special Task Force, which had been observing his movements for several months, surrounded the ambulance, and the gangsters were killed in the ensuing gun battle. The entire operation was named Operation Cocoon and Veerappan's associates Sethukuli Govindan, Chandre Gowdar and Sethumani were also killed in the operation. His death was described as the "death of a demon" by The Guardian. The villagers of Gopinatham celebrated with firecrackers on hearing the news. Since Veerappan's death, the village has been promoted as a destination for ecotourism by the Karnataka State Department of Forest and Tourism.