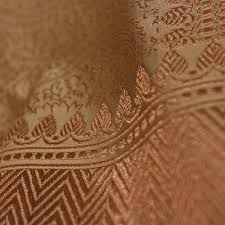 Kashmir produces many beautiful textiles every year, though now they have a uniformity of style. Jamawar is a fabric that has its roots deep down in Kashmir history. The beautiful Valley of Kashmir is justly famed for its textiles. Zain-Ul-Abidin, the ruler of Kashmir had brought weavers from Turkestan to the valley and laid the foundation of Kashmir Shawl Industry. The word Jamawar,  Jama means 'a robe or shawl' and War means 'Yard'. It is an adulterated form of silk since it contains a blend of cotton and wool. Jamawar fabric is the oldest forms of woven art. It is made by hand with needles. It doesn't involve any work, no machines work at all, only needle. Some shawls take a couple of years and months to complete. The high end variety of Jamawar shawl is Kanika Jamawar made from weaving sticks and the patterns. They are so finely done that the front and back of the shawl are identical. While Pashmina Jamawar shawl is made of Pashmina yarn obtained from goats mixed with cotton and wool, the main attention i.e., Jamawar Fabric draw is skilled embroidery work and flawless weaves. In early times, Jamawars were crafted out of pure silk. These shawls were exclusively worn by the aristocrat class and the royal. But with advanced technology and faster looms Jamawars are accessible to everyone nowadays.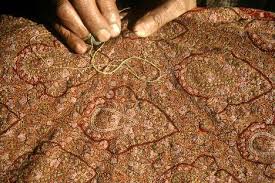 Traditionally, Jamawar has been used for making shawls. But, now it is also used in designing Sarees, blouses, bedspreads, tablecloths, curtains, salwar kameez, kurtas, lehenga cholis and many more. The intricate paisley motifs and designs on a Jamawar fabric truly give this fabric a rich and distinctive look.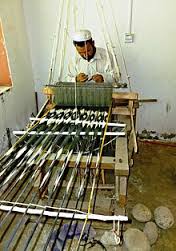 The Indian government in recent years has initiated and attempted some programs that work towards the revival of this art. A Shawl weaving center for promoting the production of Jamawar weaves at Kanihama in Kashmir has been opened. Rapid innovations are taking place to make Jamawar more popular in India as well as across whole world. Jamawar sarees, now have matching silk shawls attached to them to maintain the royal glory.  Jamawar Sarees are being woven using equal variants of silk like Pashmina Silk and Banarasi Silk. Weaving techniques from Bhutan are giving inspirations to Weavers. The Jamawar shawls are disappearing very rapidly because the weavers are not willing to take up the tedious task of this ancient style of weaving. It takes years to produce a jamawar shawl. The ancient style and the time spend is the reason why this antique form of weaving has not passed down from one generation to another. The younger generation have drifted to other professions in seek of good livelihood and less time consumption. The beauty and intricacy of this fabric has attracted the attention of high-fashion designers, who have chosen it repeatedly to use it in order to create gorgeous designer party-wear. Styling and accessorizing such a rich fabric requires a certain amount of attention to detail. For special occasions, one can stick with one or two pieces of classic Indian jewelry such as a Kundan necklaces, Polki earrings, diamond mang-tikkas or gold bangles. These will nicely complement the traditional, intricate aesthetic of Jamawar fabric. This textile industry has a significant presence in the Indian economy as well as in the international textile economy. Its contribution to the Indian economy is manifested in terms of its contribution to the industrial production, employment generation and foreign exchange earnings. Textile Industry is providing one of the most basic needs of people and holds importance; maintaining sustained growth for improving quality of life.