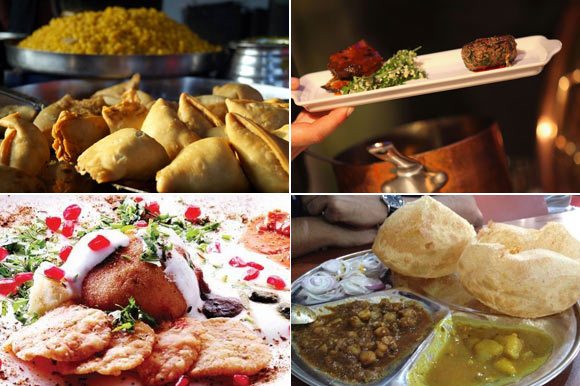 When we listen to the words "Street food" what comes to our mind first? Most of the time we think it is something delicious and we enjoyed eating it on the roadside or the street. Fast food means the food which is ready to eat and it is useful for immediate consumption. They are usually low is cost. Many people prefer street food than the homemade food as less effort is needed as well as variety is available.
They wake up with the smell of jalebi and in the evening they have their mouth full of water because of golgappe. People often overeat the street food and blame it on the stall owner who makes the food so yummy. One of the most famous is Hariya ki lassi which is full of cream and when we finish it we are so satisfied with the quality that we don't realize of having the cream over our mouth. Abu Lane is very famous for papri chaat. One can find a huge crowd in the evening while to Abu Lane. The variety is not limited; it has extended to South Indian as well as Chinese food too. Let us have a look on 20 most loved street food of Meerut
1. Golgappa
Well, if you think you can ignore it then surely you are going to regret it later as no one can stop the mouth to get filled with water as it is very tempting. Different types of golgappas are available with different taste of water. There is a Braj Mohan Tikki stall near RV College, and the owner said that you can never go wrong with the chaat stall here. He doesn't feel that pizzas or burger are even in the competition. Chaat is also available for different people who like different taste. As the stall is near girl's college, it is always surrounded by girls and for girls golgappas are always tempting. Pani puri is very famous among all the age group.
2. Sandwiches, bread pakora, tea
Most famous tea stall is at Budhana Gate and owner is Goldie Gupta. Many people such as businessman, policeman, doctors and even the workers visit this shop after the morning walk for the breakfast. These things are not easy to make at home especially when it comes to jalebi so the shop has the huge demand of the food. It is so tasty that people get them packed and take it to their home so that they can eat it later.
3. Wheat grass juice
Wheat grass juice stall is the famous one which is making its place in the street food market. It is one of the latest stalls and has been running for more than six months by Sanjay Malhotra. It is located in front of Chaudhary Charan Singh University campus. It is a very tasty juice and is very beneficial when taken empty stomach. The opening time is 5.30 in the morning and remains open till 8.30 am.
4. Dosa
Even in North India, we have South Indian food lover. When one person feel like eating South Indian means no other food variety will go with his/her taste. Dosa is all time favorite which is available with a lot of variety. From Madurai to Meerut where you will get South Indian food in North India is Madrasi Dosa. It is a savior. The owner is Shekhar. He shifted the stall from Madurai to Meerut for the better business. It is also a spot for treats for South Indian food lover.
5. Hariya ki Lassi
Hariya is Lassi has taken over market for 45 years. It was Sudhir Kumar's father who started this Lassi chain. In the hot summer, it is the most selling drink. They also keep some of the sweets but Lassi is all time favourite. Consumers are hygiene free and wear gloves that make the customers happy.
6. Local Chaat Bazaar
Meerut is very popular for Chaat with mixture of sweetness, spiciness, and tanginess. It offers various charts but what is at the top of the list is Matar ki Chaat and this is what city is popular for. Chaat bazaar is located in the Cantonment area of Meerut. It is linked with other shops too which has various food items such as pav bhaji, kachori, etc. There is a market nearby the shops. When people get tired or hungry after shopping, they often visit these shops to eat some tasty food to fill their stomach and refresh their mood with tasty food while talking.
7. Tikki
Various Tikki stalls are found at Cantonment area, Sadar Bazaar, Central market, Modinagar. Some of the Tikkis are aloo tikki, bun tikki, methi tikki and many more. The ingredients used are potatoes, onions, and spices. Tikki represents the small cutlet. Tikki are crispy to eat and easy to chew which are filled with aloo.
8. Pakodi
When it is winter, there is nothing better than eating pakodas and taking tea. A small shop is available in Begum pul, where you can find a variety of pakodas. It serves people with onion pakoda, paneer pakoda, aloo pakoda, etc. Along with pakoda, he serves chutney. The cost is appropriate so that even the poor people can afford it.
9. Kulcha
You can find make kulcha stalls on the street. They are so delicious that you will not believe until and unless you eat it. It brings water to the mouth of many and people can't resist it. In addition you also get chole. You can ask the kulcha wala to add spices according to your needs and taste.
10. Paan Corner
Paan Corners are available almost everywhere in Meerut. It was in our tradition to eat paan. People enjoy eating it. There are various types of paans and sweet one is also available for kids.