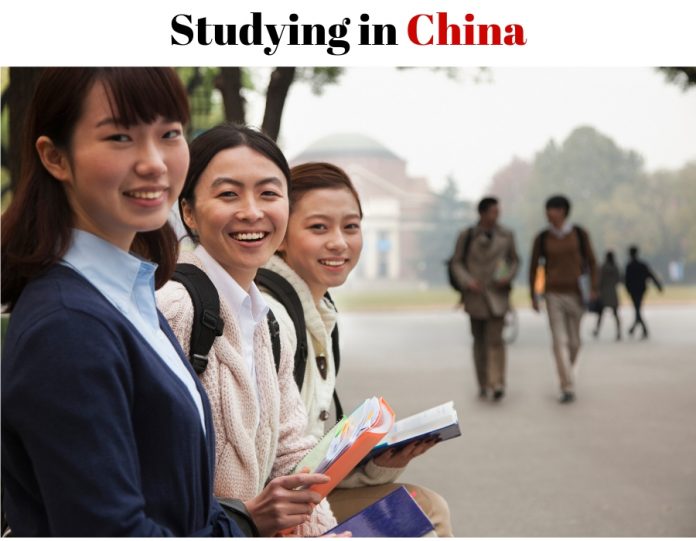 Over the past few decades, China's economic importance has risen rapidly. Increased focus on education followed the growth they saw in this area. In recent years, the government has invested large amounts in higher education and has promised that by 2020, 500,000 international students will be enrolled in their universities. This makes China the perfect destination to explore a new culture for international students.

Why study in China
China offers plenty of options from Bachelor's to PhD at all levels of higher education. Most programs and courses are not taught in English, so Chinese is fluent if you want to study abroad in the country. However, the number of courses taught in English is increasing. Look at the universities that offer a course that suits you, and make sure it's taught in the language you need.
Most of China's higher education institutions are public. This means they are governed by the Chinese government and the Ministry of Education. They can be divided into three different categories: universities of research, comprehensive universities, professional training colleges and vocational institutes
For their universities, the Chinese education system has its own ranking. It is known as the C9 League and is similar to America's Ivy League. If after your studies you want to gain employment in China, it may be useful to explore your study options at one of the C9 ranked institutions, as Chinese employers can look more closely at them.
As a nation of world-class quality education, China is rapidly developing and emerging. It's no surprise for international students to become a popular destination. Many exciting scholarships are also offered because of their goal of attracting more international students.
Also read Scholarships for foreign students in Italy
Cost of living and studying in China
China is a relatively inexpensive place to study compared to countries like America or Great Britain. This means that for a reasonable price you will receive a high quality education. As is the case in most countries, tuition fees and living costs will cost the larger cities more than the smaller cities and towns. Course fees will vary depending on your program and the level at which you want to study.
Every year, tuition fees are subject to change, so make sure you know the cost of your course. On average, depending on the study level, you should expect to pay between CNY 18,000 and CNY 63,400 per year.
Health insurance is another cost you need to consider. Many universities provide a reasonable cost of health insurance. You also need to have an ongoing medical exam before you can start your studies. In your home country or when you arrive in China, this can be done. For more information on health insurance and possible vaccination requirements before your studies, you can contact your selected institution.

Languages in China
Mandarin is the national language in China. It is spoken across the country but a local dialect is also spoken by most communities. Although English is spoken by many young people and students, don't miss the opportunity to immerse yourself in Chinese language and culture. It is widely desired to be able to speak Chinese, becoming an important business language.
You will have to prove that your language skills will meet the teaching standards if you choose to study in Chinese. If you choose to study in English but it's not your native language, the same rule applies. Offering language courses to enable students to improve their required language is common for institutions. If you need to take a language course before your studies, contact your selected institution.
Also read A glance at the Sweden education system
Visas for China
Once you have enrolled yourself at a university and you have proof of that, you must apply for a visa. This can be done in your home country at the Chinese Embassy. If you stay six months or more in China, you need a study visa, also known as an X1-visa. If you don't receive your admission documents in time, you can get a tourist visa (L-visa) to China and convert it to an X1-visa when you arrive.
In order to apply for your X1-visa, you will need an original passport with a minimum validity of 6 months remaining and blank visa pages, a completed visa application form with a recent color passport photo, the original and photocopy of your institution's admission letter, as well as the original and photocopy of the Chinese Visa application form (for JW202 or JW202).

Best recommended study abroad programs in China
ONPS summer in China
ONPS Summer in China is a tailored program to gain knowledge of China and its ever-growing business sector for foreign students like you. The project is supported by the extensive network and database of ONPS and helps you gain access to top professors in different fields of expertise. The summer study program abroad China was originally designed to enable foreign students to gain access to the local market in China and give insight into the Chinese population's thinking processes. It hopes to open the mind of students and create a broader way of thinking about business and life as a whole. This summer study program abroad will inspire you to understand China's true culture.
CISabroad semester in China
Another one of China's best study programs abroad enables you to study at the prestigious Tsinghua University, alma mater to former President Hu Jintao and current Chinese President Xi Jinping in the heart of Beijing. This program offers a wide range of STEM, humanities, and business courses. You will also have the option to take language courses in Mandarin, ranging from beginner to advanced.
USAC Chinese language and cultural study
Ancient, culturally rich and picturesque, Chengdu is the perfect destination for anyone who hopes to immerse themselves in the natural beauty and heritage of China. Although the capital of the province of Sichuan boasts these aspects, it is also known as the center of scientific research and higher education in Southwest China. Use these and more through USAC's Chengdu program. This program involves learning Mandarin Chinese, which in the global marketplace is rapidly becoming a widely spoken language.
Choosing to concentrate on intensive language study also means taking one or two elective courses. These include Chinese cuisine, history and Chinese culture, and Tai Chi. This path follows an intensive approach, enabling you to complete in one semester up to one and a half years of language training. You can also concentrate on Chinese Studies, which is taught in English and requires a course in elementary Chinese language.

Conclusion
Being on of the fastest growing economies China is surely going to make you proper in your desired field with amazing career ahead. Enrol yourself in the best university and give wings to your career
ALL THE BEST!!