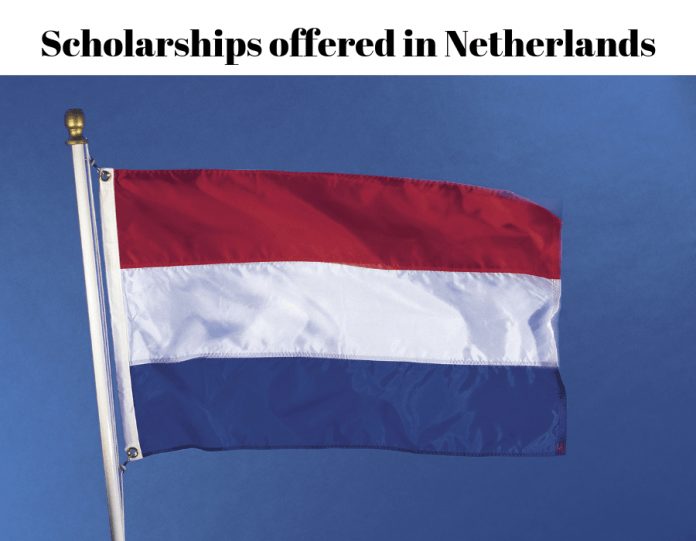 The Netherlands is one of the top destinations for international students seeking to pursue free studies in Europe, along with UK and Germany. The degrees offered by Dutch institutions are internationally recognized and the Dutch government and the institutions here offer a significant number of scholarships in the Netherlands as well as scholarships.
Let's take a tour of different scholarships program offered by the country and get to about them before planning to enroll in them
Scholarships offered in Netherlands by government to international students
Holland scholarship
This scholarship is meant for students who are from outside the European Economic Area and are planning to pursue higher education in Holland. This scholarship is provided for euro 5000 that will be provided in the first year of education.
Erasmus Mundus scholarship program
This scholarship program helps the students in enrolling in various study programs in Netherlands. There are a lot of Dutch universities that participate in this program for the benefit of international students.

Scholarships offered by the universities to foreign students
Leiden university scholarships
This scholarship is open for excellent students who are planning to pursue higher studies in MA, M.Sc and LLM programs from the particular university. Students can avail euro 10,000 as tuition fees or total waiver of the tuition fee under this scholarship program
University of Maastricht high potential scholarship program
Maastricht University (UM) offers high-potential UM bursary to talented non-EEA students, except for the School of Business and the Economics, to follow every UM Master or graduate program offered to professional students. The scholarships cover tuition fees, monthly living costs, insurance costs, and visa costs.
Radbound university scholarship program
A select number of talented non-EEAs students can receive a grant to complete an English-language Masters degree at Radboud University in Nijmegen from a Radboud Scholarship Program. The scholarship program is not a sum of money that you receive on your bank account but is a partial exemption from tuition. The fee is waived to an EEA student's level. The Radboud Scholarship program also covers expenses like visa, residence licence, health insurance and liability insurance.
Utrecht university scholarship
This program offers tuition fees to brilliant students who want to complete their higher education from the same. It also offers euro 11000 as living expenses.
Erik Blumink scholarships from university of Groningen
The scholarships of the Erik Bleumink Fund are usually awarded for one or two years for a Masters program at the University of Groningen. The grant includes tuition fees plus travel costs, subsistence fees, books and health insurance.
TU Delft excellence scholarships
There are various excellence fellowship programs for international students offered by Delft University of Technology. One of those programmes is the the Jusus & Louise van Effen Scholarship program which aims to support excellent international MSc students wishing to study at the Delft University of Technology. The pell grant covers full tuition fees and a monthly living allowance.
Amsterdam scholarship
The Amsterdam Excellence Scholarships (AES) grants scholarships to exceptionally talented students outside the EU in pursuit of the University of Amsterdam eligible Masters ' programs. The AES is a full € 25,000 bursary covering tuition and living expenses.
University of twente scholarship
These scholarships are offered to brilliant students who have enrolled in M.Sc graduate course. It amounts to ero 6000 to 25000 in a year.
VU university fellowship programme
The VU Fellowship Program (VUFP) is a unique opportunity for talented students from outside the EU / EEA to study in the VU University Masters. The bond awards € 15,000 to non – EEA students for tuition fees.
The Hague world citizen talent scholarship
The University of Hague offers scholarships to outstanding international students who are interested in pursuing their university bachelor program. The scholarships cover nearly two – thirds of the total tuition fee for the first year university at € 5,000 each and will be awarded only once.
ASSER winter academy scholarship
The Winter Academy is designed for academics and professionals working on issues related to AI and international law. It covers the registration fees but does not include travel costs, accommodation in The Hague, insurance, or other expenses.
The macgilvary fellowships
The University of Amsterdam's Faculty of Science (UvA) invites applications for 6 MacGillavry Fellowships. These fellowships are available in the areas of Biological Science and Biomedical Science, Earth Science (Physical Geography), Computer Science and Logic, Physics, Chemistry, Astronomy, Math and Statistics. The program is the position of tenure track open to talented female researchers from across the Netherlands.

How to apply for scholarships in Netherlands?
Candidates can apply for the netherlands Scholarship for international students through their preferred Dutch educational institution in the Netherlands if they meet the criteria listed for the individual university admission / selection criteria.
Only if their preferred university is one of the participating universities listed on the website of the scholarship can candidates apply for the Holland scholarship. You can find the application instructions and deadlines on the preferential university.
Eligibility for Netherlands scholarship
In order to apply for the scholarships in Netherlands a candidate must fulfill the given requirements
The aspirant must be a Non EEA nationality
The student must be applying for a full time masters or bachelors degree program at a university in Netherlands.
The student must satisfy the eligibility conditions for the specific program and university of education in Netherlands.
The applying candidate must not have any king of degree or certificate from the university of Netherlands
Conclusion
Netherlands is going to be one of a kind experience that you will relish in your life. The country is going to offer you best education and will also provide you the best job opportunities that will be valid all across the globe and will make you a skilled labor. Do not hesitate and fill up your form of your preferred course and apply for the scholarship and get ready to give shape to your future with a life time experience and quality education in a country like Netherlands.