You can't always stay busy with your work in this corporate world. Even the studies say that a refreshed mind is much more productive than a normal mind which is busy continuing the same set of work for months. Away from the hush and buzz of metro cities, you all will always love to experience an adventurous and thrilling vacation to feel yourself to be refreshed and stress free for a week or so. And when you talk of adventure, a good trek is really a good option.  Parang la trek is one of the best options that meet all the requirements like budget, adventure, scenic beauty and fun.
Parang la is one of the most famous and ancient trek routes of spiti. It connects people of Spiti to those of Ladakh. This place is really a treat to eyes as it has a fantastic view of the mountains and Pare Chu River. This trail basically follows the ancient and traditional route between the people of Spiti, Changthan and Tibet which was used for trade purpose.
Meadows of Khibber, the point from where this trek starts is indeed a true landscape and is used as breeding ground for Chumur (Spiti horses). The trail follows a broad valley across the entire pass. Also, you will find a glacier of about 3 kilometers to the northeast of the pass. A photographer will find this place to be a true treat and would not be able to stop himself/herself to capture this very gift of nature.  So, Just follow this 12 day itinerary and enjoy this very bliss.
Day 1: Manali- Kaza
Any road trip can be a moment of life for people. And this trip to spiti valley via kaza is no less than a memory. The nasty water crossings and roadways shall surely make your heart bounce like none other. It starts from Gramphu and ends at Kunzum Pass and covers around 200 km. This way is termed to be one of the deadliest roads hence termed to be really adventurous. If you are someone travelling from Delhi, you need to invest two days in order to reach Kaza. On the first day, travel to Manali from Delhi and the next day reach Kaza, your destination.
Also read: 5 Examples Of Rock Cut Architecture In India
Day 2: Sightseeing in Kaza
This place is good to explore place. You must cover some of the famous places and make it a regret-free trip. Enjoy the serene beauty and brilliant views. Get a good collection of photographs with you. Starting with a monastery, forget about you being spiritual or not, once you visit Kaza, you must visit the Key Monastery which is almost 7km from Kaza. It was established in the 11th century.
Coming next is Chandratal Lake, which is at an altitude of 4300 km and a not to miss the place in your travel itinerary. This lake won't ever dismay you as it sparkles with clear blue water, a true charm to your eyes. One such place is Komic village, at an altitude of 4275 km; a place where fossils are found. But beware and do not buy them as its illegal. Although Kaza is a small place, do not miss to buy famous kinds of stuff of wool-like shawls and carpet and clothes
Day 3: Dhumla-Thaltak
Once you are done with exploring Kaza, climb up to parilungbi river for 7 hours. Find a spectacular view of Kang Nilda towards southeast. Apart from this, towards your northwest, you'll find a variety of peaks standing above Kunzum Pass. Thaltak is an apt place for camping and provides you with good camping ground.
Also read AdventurousTrek In India
Day 4: Reaching Bongrogen
Day 4 is sure to be your toughest day of the trek. To reach bongrogen, you have to descend way down to Parilungbi river. Once you cross the footbridge, you need to walk around 2 kms till you reach Jagatha. This place is a base camp for Parang la. Since you have already experienced a way too tiring trip, have a break and comfort yourselves in the nature's lap at this beautiful base camp.
Day 5: Bongrogen to Dak Karzong via Parang la
Now catch what you have travelled for since 3 or 4 days. After having a good rest, you are re-ready to move ahead and continue your trek. So, grab a good breakfast and get ready for further trekking. Now your zig-zag trail finally lets you enter Parang la. When you see the spiritual flags and hear the enchanting prayers, you are here at Parang la. On the right, you can find layers of ice and walk along the Parang chu glacier, (If you know chu means river). Click as many pictures as you can because often these kinds of trips are once in a lifetime. Finally, you reach the campsite of Dak Karzong after walking a long distance alongside the trail.
Day 6: Step towards Datang Yongma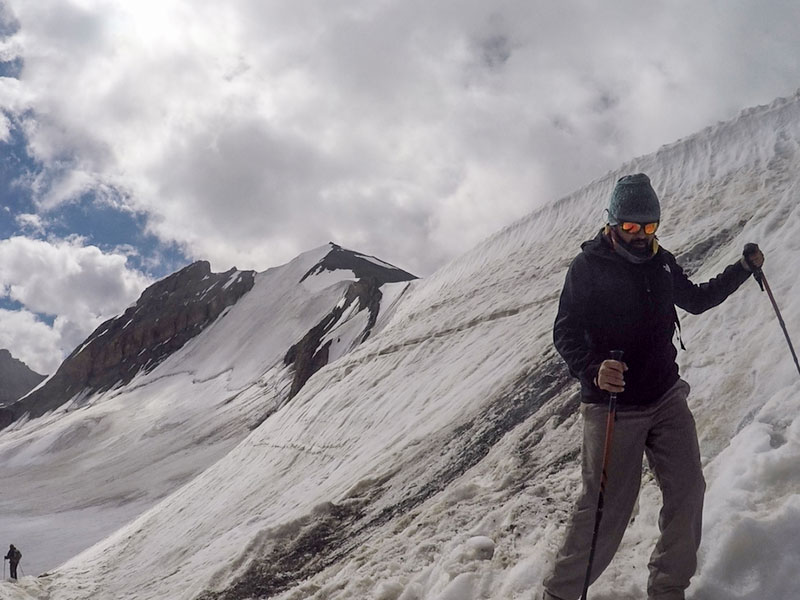 As you move further along the river, you get to see beautiful meadow that is going to be really pleasant to your eyes. It is a lush green meadow amidst the dry landscape, a true beauty. Get in hold of lot many memories in your camera enjoying this treat to your eyes.
Also read : Ancient Warli art of Adivasis
Day 7: 6 hours trek to Norbu Sumdo
Crossing several glacial paths and moving alongside the river is one thing which is not going to leave your part till your entire journey. Also in these 6 hours of trekking, you will be experiencing to walk on dry river beds. Sumdo means a junction of 3 trails- one from Chumur, one from Spiti and the last one from Ladakh. One can enjoy the experience of an overnight stay in the tent. Camp at the broad oasis of Norbu Sumdo at low temperatures and get a thrilling experience. It's surely a must visit place, no doubt about it.
Day 8: Norbu sumdo to Kiangdom
Get ready for a 6 hours trek from Norbu Sumdo to Kiangdom.  This is going to the largest and biggest river crossings in your entire trek. This is going to be the last time you shall be crossing the river. At this place, you can easily find groups of horses and mules crossing the river and easily capture the bond between the two. Also, you must watch out that you stay cautious whils your trek and don't get harm by these animals.
This trail now ascends towards the left side once you leave the river and continue towards Chanthang. Once you are inside the city, you can easily find many attractions, the most famous one is Changthang Wildlife Sanctuary, which is surrounded by two mountain lakes, Pangong Tso Lake and Tso Moriri. This place is a home to Changpa tribe, a nomadic and pastoral community. Commonly found animals in this place are sheep, Tibetian wild ass, snow leopard etc.
Day 9: Kiangdom to Korzok
Korzok is a place that will head you towards Leh.  This trek is about a 7 hours trek of 24 kms. Herein, you walk along the shores of Tso Moriri throughout the day. And can easily see the lake change its shade throughout the day. Finally you reach Korzok, which is a small village. You can visit Korzok Monastery founded by Kunga Lodro Ningpo. Korzok literally mean 'acquired by unfair means'. The famous festival of this place is Kurzok Gustor festival celebrated during the months of July or September. After exploring the place to your fullest, you can have a comfortable night stay with your friends or family as the next day is going to be tiring for you.
Day 10: Finally to Leh
Wake up fresh and start your travel towards Leh, an ultimate level of beauty, so scenic, so pure; you would just completely love it. It is an 8 hour drive of about 213 kms. This is a hub of must visit places. The magnetic hill, the name itself can capture the travelers. This place has an anti- gravitational effect, the only magnetic hill in India. The next is Leh palace, a 19 storey high building made in the 17th century. Also, you can have a glance at Zaskar Valley, mostly travelled for river rafting and trekking trails. Enjoy this place at your fullest and get a huge collection of memories saved in your cameras. This ends your parang la trek.