When buying something, being picky is a sign of intelligent business. You're pouring in your hard earned money. So it better be worth it. You never know who is waiting to cheat on you and get away with the bucks they make this way. So going shopping can be time consuming and test careful observation.
But in the age of online shopping, we seem to give in to tiredness. After work pressure, assignments, late nighters and struggling to make time for family, free time is almost non existent, let alone time for shopping. Automatically we fall back on online shopping, where we look at an image of the product, sometimes refer to reviews given by others, and buy them.
Despite reviews and return policies, it seems online shopping can be a great disaster at times. Here are such instances when customers were stunned by what they received.
A Face Mask for Liliputs
Thanks for the mask. My Barbie Doll loved it.
A Colour Changing Cup?
This man thought he was buying his wife a cup that changes colour. Because that's what the image said. But guess what?
So…This is a Blanket
Apparently it is supposed to accomodate a three member family, if only you figure it out right. Or, is it?
A Decor for my Room
This man thought he is giving a gala regal look to his room when he ordered this rug. Didn't realize it was meant more for a doll house because, obviously the seller never said it.
A Beautiful Dress for the Party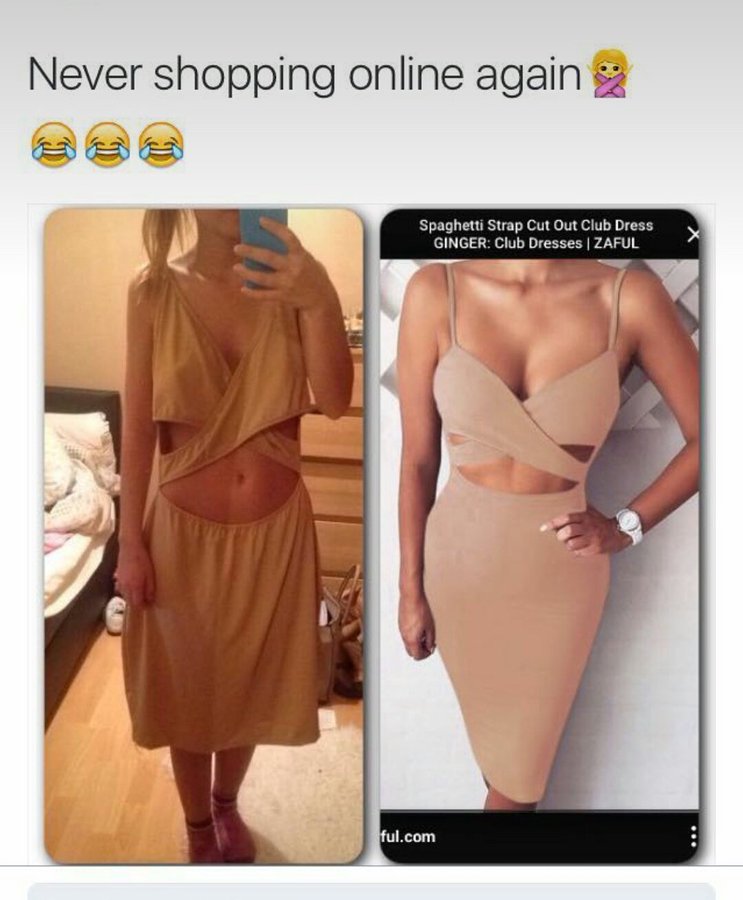 Is That a Tank Top? Is That an Extremely Tight Dress?
This guy probably wanted to show off how his hours of hard work at the gym were paying off. Can't say his wish wasn't fulfilled, but this wasn't exactly on his mind when he tried to make his wish a reality.
Discreet Packaging, Did You Say?
This person just wanted to make sure her mother got a nice surprise. So she wrote instructions accordingly. But the dude responsible had one job, and he messed it up.
Here's a Nice Pillow for Your Kid
This adorable dinosaur pillow would have been really cool as a gift for kids, except the fact that the product description didn't clarify which one is the pillow and which one the design on the pillow.
Is That a…Dress?
This woman ordered a "Fur Wolf Tail for Halloween Dress" but things did not go like they said.
Not Another Badly Printed Cup!
Uh, yep. Another badly printed cup.
A Beautiful Ocean…Wait WHAT!
So the buyer did not take a close look at the small thumbnail provided on Wish when she ordered a wall tapestry. Well, when it arrived…you can guess what a mess it was. But the mess was not just funny but also quite adorable.
Back to School, For the Cat Maybe?
This person ordered a converse bagpack for their son since he would be starting school after vacations. But probably the bag was never meant for humans?
Flowers for Your Loved Ones
Maybe these aren't very ideal situations when you are going on a much anticipated date, or a special party. But things online can get pretty messed.
Eternal Memory of a Loved One. No, Eternal Scare!
This boyfriend wanted to make a memorable gift for his girlfriend moving to university. Turns out, it wasn't a great idea.
Where is the Freaking Size Chart!?
These pair of jeans weren't really specific on the website. So the buyer was misled by the size chart.
Some Deceptions Cost Much
This person paid $750 for a failed pair of shoes. But well, it seems like the seller was clever in taking the display picture. Tallied with the real image, it doesn't look so different.
What is That Dress Again?
This dress seems nice on the website. What could go wrong, right? WRONG. Everything went wrong.
Dress for Daughter?
This person wanted to buy their daughter a nice lace dress. But apparently it wasn't even good enough for the pet cat.
E.L. James May Have Some Serious Competition Here
Because this version of Fifty Shades of Grey clearly outdid the original book. Eh?
Yet Another Dress Fail!
Once again the customer has been baffled by the stark contrast between the display picture and the real product.
Well, all that appears cannot be always trusted. But regardless, online shopping has multiple perks, and most often people get what they want. The trick is to check as thoroughly as possible before ordering, and read the reviews carefully. When trying out a new website, it's better to inquire others about their experience. And if, despite all these steps, you do become a part of such online shopping fails, it's best to keep images of the experience and get refunded. Share your story so that the world can get to know more about the hilarious yet sad cases of online shopping.