There are various roads around the world where once you start travelling, the possibility of reaching your destination is totally uncertain. These extremely dangerous roads connect one place to another through mountains, forests, deserts, snow etc. Though these roads have high death rates, the people who live around these areas are bound to take risks as these roads are the only way for their daily transportation. These roads usually test the courage and skill of the drivers.
So, here goes the list:
PAN AMERICAN HIGHWAY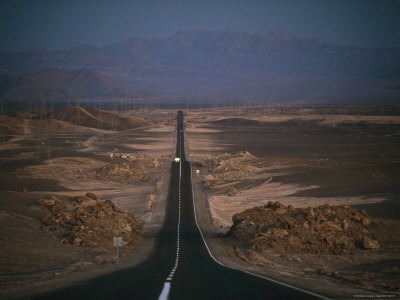 The Pan American Highway is a network of roads from North America (Alaska) to South America (Argentina) covering a distance of almost 48,000 kilometers. This is one of the popular overland routes in the world. There is also a 100 kilometers vacant area between Panama and Colombia border, called Darien Gap where it is necessary to take a ferry. Travelling this highway is a real adventure. You should be prepared well enough to handle risky situations and avoid travelling during winter. The highway passes through remote areas and diverse climatic regions such as dense jungles, arid deserts, and heavy snowfall. There are also dangers of landslides, swaps and wild animals. This highway definitely requires courage and motivation and tests your driving skills.
THE YUNGAS ROAD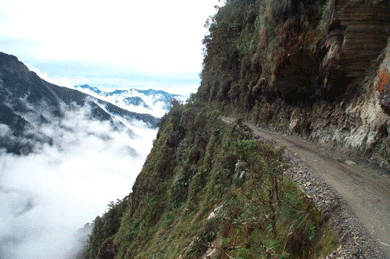 The Yungas road also known as "Death Road" is one of the most dangerous roads in the world. This track covers a 69 kilometers stretch between La Paz and Coroico, in the Yungas region of Bolivia. The road is only 3 meters wide without any guard rails and is often muddy, enveloped with cloud and fog and is prone to landslides especially during heavy rain. This highway has to climb up a famous Bolivian mountain pass, La Cumbre at an elevation of 4,650 meters which was remarkable for being extremely hazardous. But now it is not much dangerous due to construction of a new highway nearby.During Bolivia-Paraguay war, the captured soldiers were used to built this road in 1932.There used to be at least 300 accidents every year killing a large number of people. This road is not being used anymore due to construction of the new highway in 2006, but still many adventurer tourists come here every year.
ZOJI LA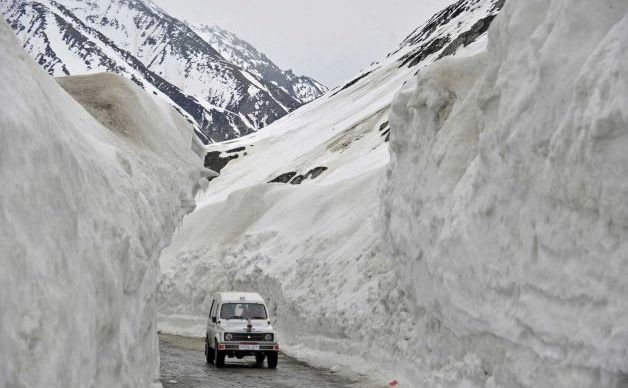 Zoji la is high and important mountain pass in Jammu and Kashmir, India between Srinagar and Leh. This pass starts from Sonamarg, provides a vital link between Ladakh and Kashmir valley and is 11,575 feet high. This pass is usually covered with 15 to 18 feet snow, so it is often closed during winter. The most dangerous situation is when rain starts pouring and the vehicle starts to skid especially during strong winds. After winter, The Borders Road Organization (BRO) takes two months to clean the Zoji La area. You should always check the road's condition before departing and must be confident enough to drive. Though the views are beautiful but that should never distract you while driving through the sharp mountain edges.
ATLANTIC ROAD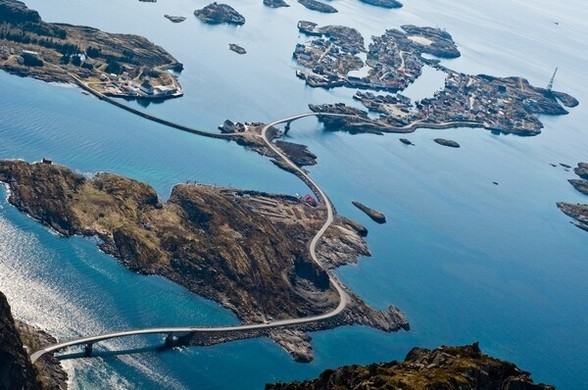 The Atlantic Road or The Atlantic Ocean Road is one of the most spectacular drives in the world. This is a part of Norwegian National Road 64, built on several small islands and connected by 8 terrifying bridges- largest is The Storseisundet Bridge. This road connects the island of Averøy with the mainland and Romsdalshalvøya peninsula. This highway has curvy roads and arches along with surprise twists over the Norwegian Sea. The weather is uncertain and sometimes intolerant due to harsh winds and sudden drops of temperature. Despite being dangerous, this is one of the most popular tourist attractions in the country. Driving is extremely challenging due to unpredictable snowstorms and blizzards. However, the panoramic and breathtaking views will make an unforgettable experience.
BAYBURT OF YOLU- D915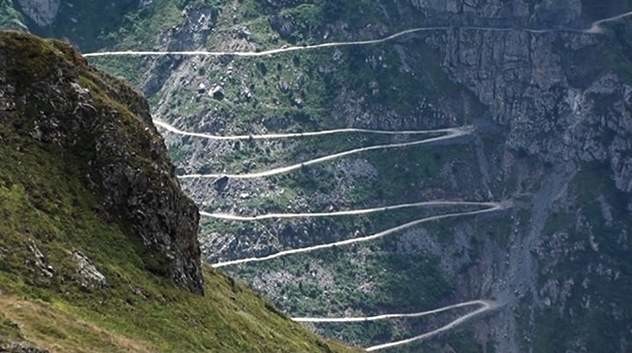 This is north to south state road in Northeastern Turkey and is one of the most challenging roads in the world unprotected by guardrails. One should always avoid to drive down this extremely dangerous road no matter how much adventurous he/she is. It has a length of 106 km and includes 29 steep hairpins. Even the pictures can't describe the horrible conditions you will face while driving. One mistake and it's free fall to your death. This gruesome road should not be attempted by heart or lung patients and beginner drivers. Avalanches, snowfalls and landslides can occur anytime and the most dangerous part of the road is Derebasi Tesisleri which is covered by snow and fog most of the time. This road is mostly used by local people. One must drive at his/ her own risk checking the weather conditions perfectly.
There are many other roads such as Stelvio pass (Italy), Trans- Sahara highway (Africa), Skippers Canyon Road ( New Zealand), James Dalton Highway (Alaska) etc that are not only extremely dangerous but also frightful and dreadful.