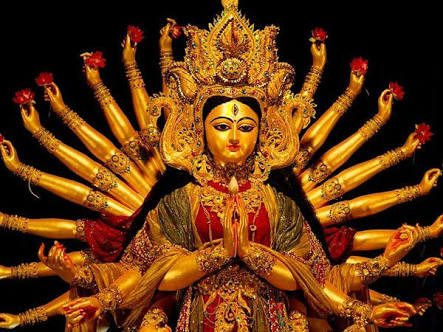 With the amidst celebration of victory of positivity over negativity Navaratri is a pan- asian nine days festival celebrated across the country by different names. In sanskrit Navaratri means Nine-nights when the energy aspect of Goddess Durga, Lakshmi and Saraswati invoked as universal mother. These nine nights symbolize the removal of all the miseries of life.
It signifies winning of truth over evils and brings the divine quality in us. Bringing divine quality doesn't only refer to being true, it also exhorts human to wake up from all the hurdles of life and bring the change. This nine-day festival purifies every mind to bring positive virtues in lives that are the key to one's happiness.
For the first three days Goddess Durga is worshiped and then Goddess Saraswatii for the next three days. The last three days are devoted to Goddess Laxmi.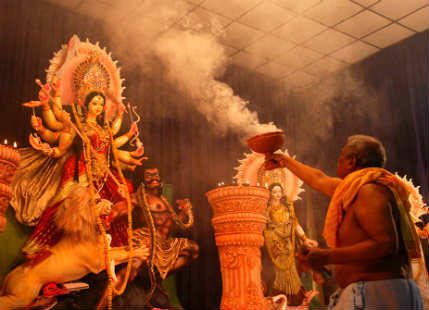 This bright festival begins with the fortnight of Ashvin Maha (season of autumn).  This festival includes ritualistic pooja and fasting. It follows the Indian calendar and according to it Chaitra Navratri is celebrated in the month of March or April and Sharad Navratri is celebrated in the month of September or October.
For the celebration, people from cities and villages gather together for the pooja to perform on small shrines that represents various aspects of Goddess Durga, Goddess Lakshmi and Goddess Saraswati. For the nine consecutive days, there is a full celebration including chanting of mantras, bhajans and folk songs.
How do we celebrate it?
It defines both, the cultural and religious themes accompanied with traditional music and dance. Gujarat is the spotlight on Navratri. Celebration takes place here all night with dances and festivities. Garba is the most famous dance form that is derived from the lord Krishna singing and dancing with the Gopis using Dandiya.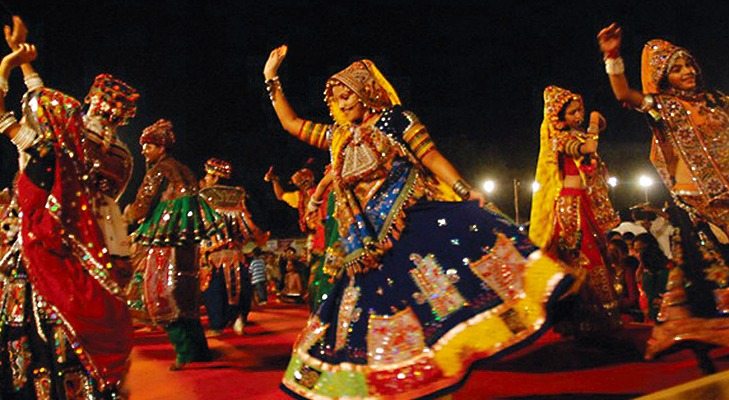 Celebration has gone through the changes with well-choreographed dance performances, people with beautiful costumes and songs. Tourists go to Vadodara in Gujarat to enjoy band music performances with high energy, singing and dancing.
During Navratri,there is an increase in number of devotees making their way to pilgrimage, Vaishno Devi in Jammu. There is a huge Navratri mela in Himachal Pradesh which marks the auspicious occasion. We all know the great story of Goddess Durga who destroyed the demon Mahishasura. In West Bengal, people worship Goddess Durga with a great devotion and celebrate Durga pooja with reverence.  Ramlila is a an enact where people perform scenes from Ramayan. In which people enact the story of Lord Rama, Laxman ji, Sita mata, Hanuman ji and Ravan. This is performed in a big ground and towards the end of the story statues of Ravan, Meghnath and  Kumbkaran are burned. On the tenth day of the festival which is Ashwin or Sharad Navratri, Dussehra is celebrated nation-wide on this day.
People in South India arrange the idols in a step pattern and call upon the name of God. The ninth day of the festival which is Dasara, in Mysore, there is folk music and dance performances, wrestling tournaments and tableau participation. The demonstration of tableau with embellished elephants, camels and horses starting with the brightly-lit Mysore Palace is very famous. Vijayadashami is also celebrated in South India which is an auspicious day for performing puja for one's vehicle.
Celebrations and festival are part of life which makes the life more beautiful and meaningful. It gives reasons to people to get together in harmony and celebrate it with full zeal and enthusiasm. We should remember that rather there is a purpose of everything. Rather than just celebrating it, we should focus on the learning through the purpose. Festivals gives us the reason to believe in the divine power and to follow the teachings through the story and reasons behind the celebration of the festival. They give us the learning and if we follow them then we can surely improve in our life. It brings satisfaction and makes our life easier to live. That is why rather than just wearing new clothes, eating tasty food and sweet dishes there is more to these celebrations that we should know. It brings the time when we should forget our hatred and bring everyone together for the celebrations.