The small town near Bolpur in Birbhum district of Westbengal, India Santiniketan was owned by Maharshi Devendranath Tagore, father of Rabindranath Tagore , while he was on boat journey to Raipur. The red soil and meadows charmed him and he decided to build a house there. He named his home Santiniketan, meaning abode of peace. Initially Maharshi Devendranath Tagore founded an 'Ashram' here in 1863 which initiated 'Brahmo Samaj.' The second youngest son of Debendranath Tagore first stepped Santiniketon with his father when he was just four years old. When he was a child his life was subjected to lifeless, colourless, education factory where he felt suffocated within the white walls of his class room. He thought that God has given gift of taking delight in the world, but such delightful activity is fettered and imprisoned, muted by a force called discipline which kills the sensitiveness of the child mind which always seeks knowledge from mother nature. After few years when he visited Santiniketan again he found the town which is 160 km away from Kolkata much more interesting. After he returned to Kolkata the wonderful picture of the town remained in his mind. In that little age he thought of a new way of imparting the education. He said later
"Because I underwent this process when I was young, and remember the torture of it, I tried to establish a school where boys might be free in spite of the school. Knowing something of the natural school which Nature supplies to all her creatures, I established my institution in a beautiful spot, far away from town, where the children had the greatest freedom possible "
When he was 40in 1901, he permanently with his wife Mrinalini devi and started a school at Shantiniketan named Bramhachari Ashram that was m
odelled on the lines of the ancient Gurukul system that later came to be known as the Patha Bhavan. The open-air education as opposed to being cloistered in the four walls of a classroom became a reality. Beside 'Astakunj' ( garden of mangoes) he built a small two floor house for his wife and named it 'Dehuli.' Presently that house is named after the name of his wife ' Mrinalini Ananda Patshala'. The calm town charmed him and he decided to turn the school to a university after he received the Nobel Prize and named it Viswa Bharati University. He not only restricted his ideas to education he also made a field named 'Gourprangan'. In the natures lap he made all possible things to satisfy the needs and to project the talents of the youngsters. In the name of his son ' Samindra Sishu Patshala' was built for class 2 to class 10 students. Moving in front there is general kitchen from where children used to get food. In 'Kalabhaban' students expertise themselves in art. In 'Sangit Bhaban' there is a permanent stage where students performed different programmes in different time . His thought was not only for the students. He built a black house of soil in order to make people of the village aware and prevent their house from fire. He named that house 'chitto'.
Rabindranath Tagore was lover of life. He for himself and his family built different house within the campus of Viswa Bharati. 'Udayan' was the name of the house where there is many memories of him and his family. Many renowned people spent time with him in this house. His last birthday in 1941 was celebrated in the veranda of this house. 'Konark' was the house where he first stayed after he came with his wife. His daughter in law, Pratima Devi stayed in this house for many days. Also C.F Andrwes stayed in this house. In 'Shamali' he stayed there for a year. Even after the death of Rabindranath, Gan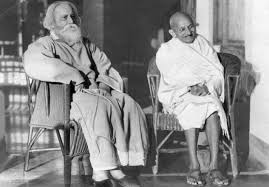 dhi Ji used to visit the house. The single floor house 'Punascha' was made by soil wall but concrete roof. The house had open veranda all around it. He did not used to like staying at one house for long. 'Udichi' is another house which has rose garden in front it. Many famous personality came to visit him in Santiniketan. In the year 1940 Gandhi Ji came to Santiniketan where Rabindranath Tagore himself welcomed him from 'Astakunj'. Subhas Chandra Bose came to Santiniketan to meet Rabi Takur to discuss about matter of importance in 1918. Jawaharlal Nehru first came here with Gandhi Ji in 1920. Then again in 1938 he came. Indira Gandhi was admitted to Viswa Bharati University in the year 1938.
Now Santiniketan is a tourist spot. Rabindranath Tagore often called as Gurudev by his lovers. They visit his abode in order to know him more. Santiniketon is the place where they find peace. The famous festival there is 'Poush Mela' which is characterized by the live performances of Bengali folk music, especially the 'baul' music. It includes folk songs, dances and tribal sports. This fair offers a perfect insight of true heritage of the state. The students of Santiniketan present their magnificent performance and make this festival more enjoyable and glamorous. Each day of this festival is filled with different activities. The last day of this fair is devoted to those who are related to Santiniketan. The Khowai mela every Saturday is a wonderful fair.
He is still believed to be alive through his songs poems dramas and work. Santiniketan is the place where one will definitely find peace and a life with nature.