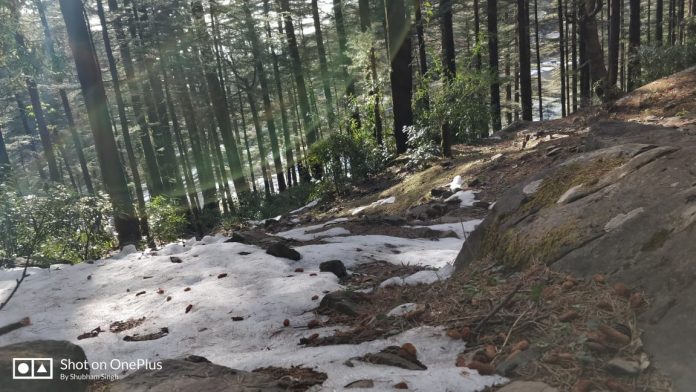 Mcleodganj is the one-stop destination for those who yearn to visit hillsides. This is one of the most attractive tourist sights which fulfils to promise the scintillating views of the mountains. It is situated on the outskirts of Dharamshala, in Kangra town of Himachal Pradesh.  In Mcleodganj is located, His Holiness the Dalai Lama's Main Temple.
If you are fortunate, you might also be able to listen to the teachings and preachings of Dalai Lama who visits it much often every year. There are a large number of Tibetan monks that can be seen preaching and praying inside the temple. People can either take quite long peaceful walks with family during the evening or the more adventurous ones can also opt for trekking and other fun-filled activities. I had never witnessed snow, so watching squall was my foremost preference. It was a sudden plan with the friends of the college and we quickly reserved our seats and found ourselves vacationing during the republic day holidays.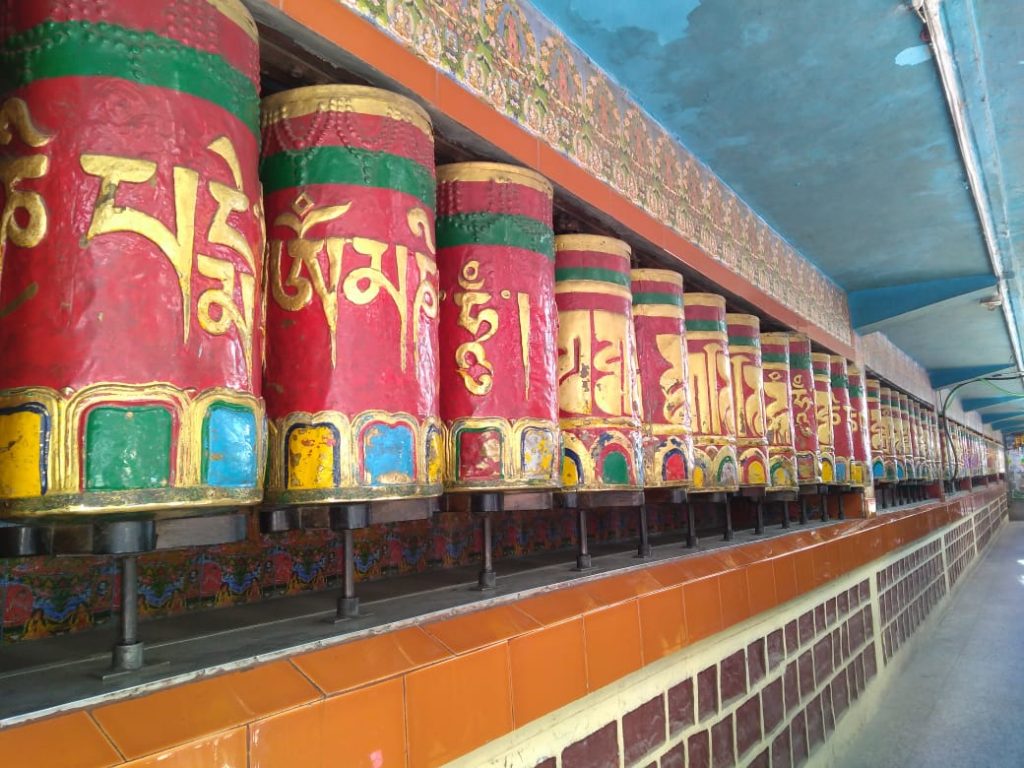 How to Reach Mcleodganj?
Flights are available till Gaggal Airport that is the nearest airport to Mcleodganj. From there you could avail cabs or shuttles. We as college kids went for a more frugal ride and chose a semi-sleeper Volvo bus from Majnu Ka Tila, Delhi to Mcleodganj. It was a 13 hours-long but cosy ride. We reached Mcleodganj by 12 pm and directly headed to Hotel Anand Palace, located in Bhagsunag. The staff was really kind and jovial. We did not dine in the hotel and headed out. We had sour supper at the famous German Bakery restaurant. Their hash potatoes were something to die for.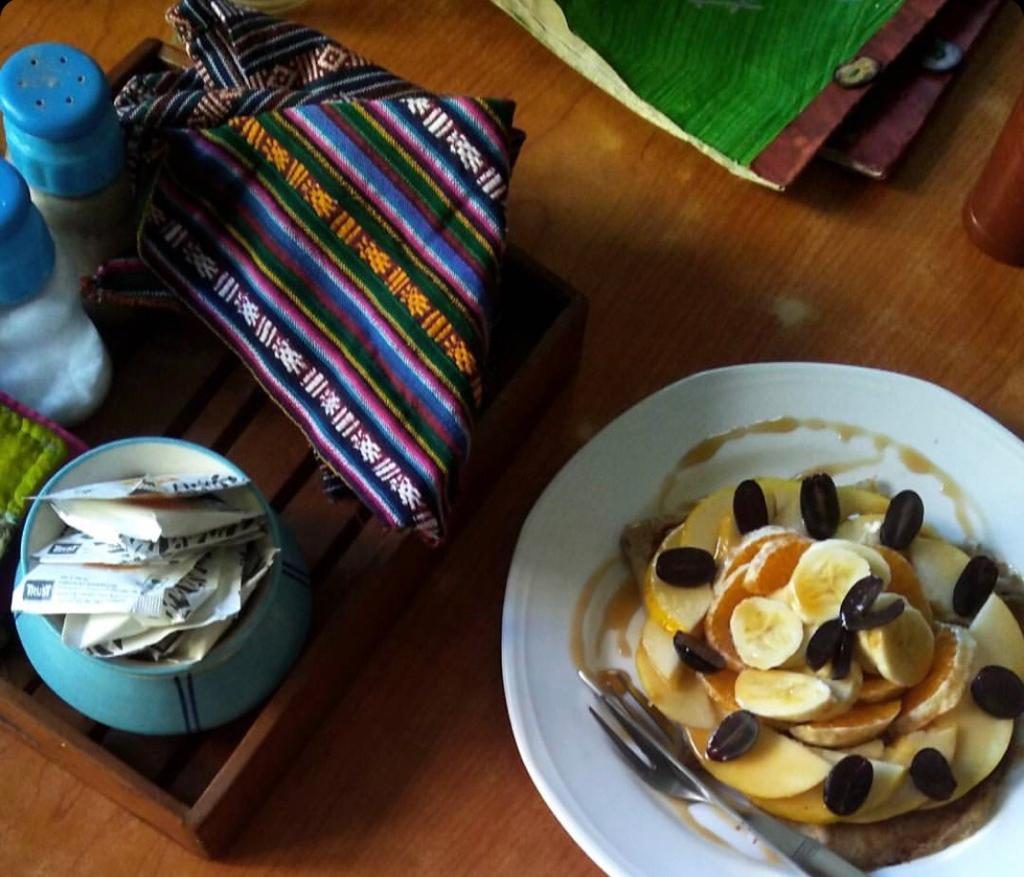 Places to visit in Mcleodganj :
1. The Tibetan Market
Apart from the Dalai Lama Temple, there is one of the major attractions that tourists love the most. It is the Tibetan Market. The market was filled with Tibetan gift items, potteries and what not. It seemed a bit tad too expensive but a little bargain helped us buy a lot of items. The items were so delicate and beautiful. We bought a lot of articles from there. Statues of Buddha, singing bowls, dream catchers, cushion covers, bohemian jewelry, colourful clutches and mandala paintings were some of the gifts we bought for our family and friends. After a full day at the trek, it was indeed a peaceful experience.
2. Kangra Fort
The fort is located on the outskirts of the Kangra Valley. It is often described by many people as one of the best forts in India.  Its architecture goes thousands of years behind. It was an impromptu plan to visit this place as the staff of the hotel suggested we go there once. We were so happy seeing what the fort stored for us. There were many statues of various lords. We could spot some families asking their children to pray to the gods there. The entrance was beautifully built and we loved every part of being there. We were so happy seeing what the fort stored for us. There were many statues of various lords. We could spot some families asking their children to pray to the gods there. The entrance was beautifully built and we loved every part of being there.
3. Naddi View Point
For people who want a peaceful time away from the bustling streets of  Mcleodganj, Nandi ViewPoint is the one-stop destination for them. We met a lot of people who live in that village. It was fascinating to know about their day to day lives. They told us about how many foreigners come to meditate there to attain peace while glimpsing at the Dhauladhar Ranges located at a distance. If at any time, the temperatures start dropping down, the villagers offer cosy home stays at their place. I was awestruck by the serendipity of the place. I wanted to stay there more but one of my friends caught a cold so we had to go back to our hotel.
4. Triund Trek
On our second day, after hearing a lot from our friends, we decided to go on the famous Triund Trek. Triund is the centre of attraction of the scenic Dhauladhar Range. The trek was somewhere between easy to moderate levels of difficulty. We started from Dharamkot and passed alongside the famous Guna Devi Temple where we prayed and paid our obeisance. The people were too helpful. They kept on offering me and my friend's food and water. We stopped at various Maggi points to have little breaks and enjoyed our magi and tea there. It is one of the most beautiful trek destinations of Mcleodganj
We came through several little streams and ponds. It took us almost two days to reach till the top. It was exhausting and tiring. We were all weary. But the view we witnessed after reaching the top was worth it all. It was so calming and beautiful. We have had our camp set up there. We stayed there for one night. It was a night full of dances, songs and making friends.We left from Triund the next day with a heavy heart and full of warm feelings.
5. Bir Billing
It was one of the most adventurous parts of our trip. I had never been that close to the sky. We visited this pretty place via travelling through a toy train. The mountains that were crossing our ways, the scenery and everything were so exhilarating. I was introduced to paragliding at Bir billing. It was an experience of the lifetime. We visited the Chokling Monastery, the Deer Park and the place where some of the refugees of Tibet still reside. It was a good experience all in all.
6. Bhagsu Waterfall
Bhagsu Waterfall is located on the way while coming down from the Triund Trek. We were all tired from the trek but one of my friends dearly wanted to go and pray at the Bhagsunag Temple. We reached the place and soaked our feet in the chilly water. One of my friends soaked her feet in haste that her socks got wet too. We had a hearty laugh over that. We had some warm tea and Maggi while watching the mighty waterfalls. There was a lot of crowd and the atmosphere was really nice. After a while, when we got hungry again we went to the nearby pretty café called-Namgyal Café. We had our lunch and then clicked some pictures and spent a happy day.
7. Dharamshala Cricket Stadium
Located in the middle of the Himalayan ranges, this stadium is one of the highest elevated stadiums in the world. People might think how weird it may be to visit a cricket stadium while visiting the hills but this stadium attracts a lot of tourists all around the year. The architecture of the stadium makes it a unique standout. It is built with modern style architecture infused with Tibetan era work. We were fortunate enough to witness the Cricket Team of Kings XI Punjab practising. It made a beautiful end to our trip. We boarded our buses back to our home towns and bid a goodbye to the beautiful land of Mcleodganj
Is Mcleodganj a budget-friendly travel spot?
Finally comes the most important question of the trip. The answer to all the students and kids would be a big YES. The travel expense can be broken into three parts.
Travel
We took a semi-sleeper Volvo bus from Majnu Ka Tila, New Delhi. The fare was around Rs. 850 per person. The return tickets from Mcleodganj to Majnu Ka Tila was around Rs. 900. You mostly have to walk in Mcleodganj. At one point from Nadi to Bhagsunag, we rented an auto for Rs. 20 per person. Apart from the travel expense was nothing more.
Lodging
Our trip was of 2 nights and 3 days. We rented two rooms. The room accommodation was Rs.1137 per day. The cost was distributed among two people. So it was a pretty economical stay at the Hotel Anand Palace.
 Food
We went to various cafes and bakeries. We ordered pasta, pancakes, doughnuts and a lot more. As surprising as it might sound but we had Maggi that was more expensive than the food at some restaurants. Food was much lower in cost than we had expected. Per person, food-budget was approximately Rs.400 per day.
All in all, it was a pretty budget-friendly and pocket-light trip. My overall expense of the trip was Rs 5500 for 3 days and I came back completely satisfied.