"Let's go to Goa yaar" I can bet that this is the most common sentence heard or said during college life. Whenever we are bored of the monotonous lectures, same old hanging out in the cafeteria and bunking, and wants to plan a trip with friends to seek some adventure, Goa is the first place that comes to our mind. Isn't it?  Whether it's a getaway from the boisterous office life, a reunion or a romantic expedition- Goa is the answer.
Goa is famous for beaches, sunbathing, unwinding yourself and of course cheap booze, partying, gambling and beautiful girls. Goa is divided into North Goa and South Goa and has twenty-two beaches with breathtaking Portuguese architecture. It is the richest state in terms of GDP and has highest number of tourists from India as well as the world. Goa is a must for all college goers. Those who still haven't been there, this article will make you pack your bags and book a ticket immediately.
Cost– The major expenditure is Accommodation, Food, Transport and Drinks.
Accommodation– During no-peak season i.e. from March- October will cost around 2000 per room, which is pretty descent.
You can also stay at hostel which cost around 350-500 per day, which is really affordable if you want to do cost cutting.
Food– Do not go to expensive hotels and restaurant, you can find plenty of good restaurants and cheap ones with yummy food outside the beaches. That should cost around 600-700 per day. Booze is really cheap and you can spend as much on that as you want.
Transport– To explore Goa cheapest way is to rent bikes. Taxis are priced (Rs 25/km) and can be a pretty expensive. Bus network is not that good. Bikes can cost 350-600 per day depending on the model.
If you are planning a trip for 4days/3nights it will cost-
Taking expenditure of around 2000/day, it will cost 6000. You can add the expenses for alcohol.
How to Go: Goa has one Airport- Vasco-da-Gama at Dabolim
Three Railway Stations- Vasco, Madgaon, Thivim)
Two Bus Depots- Panjim and Madgaon
You can choose the mode of travelling depending upon the size of your pocket.
What to Do-
Beaches– Goa has 22 beaches and you can't see them all. Well with beaches there's one thing if you seen one you seen them all. After all there is sun, sans, endless water and people relaxing at all the beaches. Visit these few beaches mentioned below and relax, have a good meal, take a dip in the water and do visit beach at night, they are marvelous with all the lightning.
North Goa– Anjuna, Baga, Calangute, Vagator, Dona Paula
South Goa– Colva, Majorda, Palolem, Cavelossim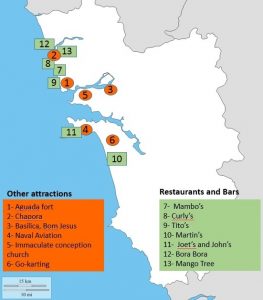 Forts– Aguada fort : build by the Portuguese, a scenic beauty
                       Chapora fort: This is famous as the 'Dil Chahta Hai' fort.
Churches– Our Lady of the Immaculate Conception Church:This church is very famous and has been shown in many movies like 'Josh', 'Mujhse Shaadi Karogi', 'Ajab Prem ki Gajab Kahani'.
Adventure– Go-karting near Verna, awesome pub at the foot of the hill commonly known as King's pub. Besides beaches, parties and the water sports, you can also enjoy rafting in Goa at Mhadei River in Valpoi. It covers a distance of 10 km and charges around 1800 per person.
Gambling– If you like gambling and want to try your luck visit some Casino'sDeltin Royale. Casinos remain open throughout the night and are a must visit.
Drinking– If you love to party and want to enjoy drinking and dancing, you should consider going towardsDTR (Down The Road), they offer fascinating ambience with affordable booze and prodigious experience. You can also visit Club Cabana, to have a crazy memorable night. Party animals should consider visiting Goa during Sunburn festival held in the beach, party destination  Be prepared to love dance and live. Most splendiferous experience you can ever have.
Try to explore the culture, taste delicacies especially made in Goa- 'Feni', take time out to unwind at the beach, go clubbing with our friends, spent a night by the beach in the arms of nature with a bonfire, indulge in the scenic beauty and amicable atmosphere and come back home with lots of experience and memories.