The entire sequels of Ice Age have always embarked us to the craziest adventurous quest. The hectic journey changes into the most comedy one when the funniest characters like Sid, Diego, Crash and Eddie accompanies the herd making the audience giggle and giggle all the way. The culprit behind the entire sequel is everyone's favorite the saber tooth squirrel Scrat. Scrat and his epic pursuit for the elusive acorn since 2012 have for sure triggered some cosmic events even this time that have brought the Ice Age: Collision Course in existence.
Ice Age the Collision Course is a forthcoming 2016 American 3D computer-animated adventure film. Ice Age Collision Course is the fifth installment in the Ice Age film series. The movie is a sequel of 2012's Ice Age Continental Drift. The film is produced by Blue Sky Studio. The movie is scheduled for release on July 22, 2016 by 20th Century Fox. The movie begins with the all time favorite Scrat and his momentous consequences. Scrat with his eye fixed on the most tempting and elusive acorn ends up with "Scrat-tastrophe". The crazy Scrat this time is creating his own version of Big Bang as released in the teaser trailer. Hence, huge consequences befall the Ice Age herd and the rest of the Ice Age world.
Ice Age Lead Animated Characters

Mammy
Manfred "Mammy" is a huge woolly mammoth and is featured in all four Ice Age films. Mammy is very friendly and caring, but also cold and emotional. Mammy does not like to be referred as fat for he believes that he is not fat, but his fur makes him look big and poofy.
Sid
Sidney "Sid" is the funniest member with a good heart. He is a ground sloth who is clumsy, annoying, slow-moving, fast-talking, and loyal. Sid is a cool optimistic guy. Sid often faints, as he gets hit on the nose by a block of ice and apparently, gets his tongue stuck to the floor of an ice cave.
Diego
Diego is a saber-toothed cat.  He has a sarcastic personality without being malicious and is found in all four Ice Age films. Diego at first made friends with Mammy and Sid with furious intention, but later on has a change of heart and now they are best buddies.
Ellie
Ellie is a huge female mammoth, but she believes that she is an opossum.  Nevertheless, Ellie is welcomed in the herd with her two twin adopted brothers, Crash and Eddie. These two twin opossum are reckless and danger-loving, courtesy of the fact that they're both very stupid. Mammy finds his soul mate in Ellie and now they are a family.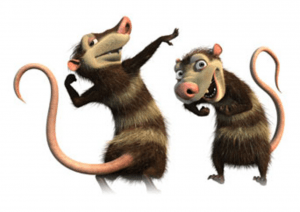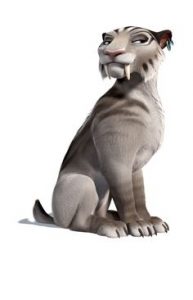 Shira is a dazzlingly beautiful saber-toothed cat and a captain of Gutt's pawn. Diego is in love with her, during the end credits, Shira and Diego are seen nuzzling each other showing that they have now become a couple.
Ice Age sequels have always introduced new interesting characters in the movie that have made the movie more exciting and adventurous. Sid, Crash and Eddie have always added great humor to the sequels making the audience to leave the theaters laughing and smiling. This summer Ice Age Collision Course will definitely excel the entire sequel with more entertainment and fun.