Girri Chaupal- A Revolutionary Grievance Redressal Framework
Days of facing the bureaucratic red tape, harassment by public officials or prolonged delays in hardly a day's task will soon be history in East Delhi.
Today, I was fortunate enough to witness the '40th Girri Chaupal' organized in Kailash Nagar Colony by the BJP Government. As simple as the name is and so is the concept of the Chaupal, the event managed to bring about results which are truly beyond one's imagination.
Girri Chaupal indeed, is a very effective platform for the redressal of public grievances with the motive to reach out to maximum people, right in their area and to their maximum convenience. Every week, Mahesh Girri Ji organizes a Chaupal in a specific area in East Delhi Constituency. The event is attended by officials from all the Government Departments, including PWD, BSES, DDA, East Delhi Municipal Corporation (EDMC) (including works, project, building, education, health, malaria, sanitation, electrical, license and horticulture divisions), Traffic Police, Delhi Police, SWD, DUSIB, DJB, Health, Education, Irrigation and Flood Control, Food and Civil Supply. Residents of the area come to the Chaupal with their grievances and the Chaupal organizers ensure that all the people's issues are resolved and no one goes back unattended.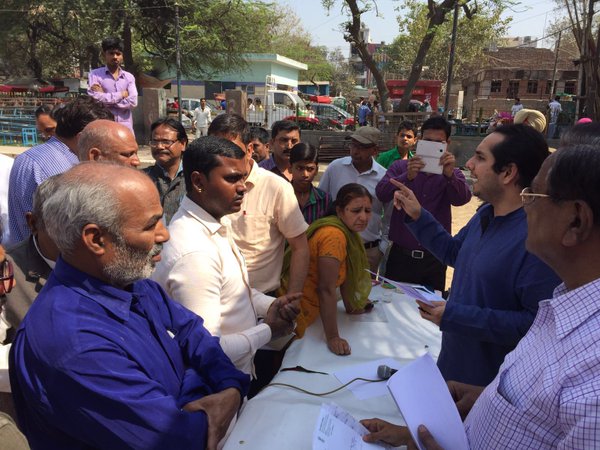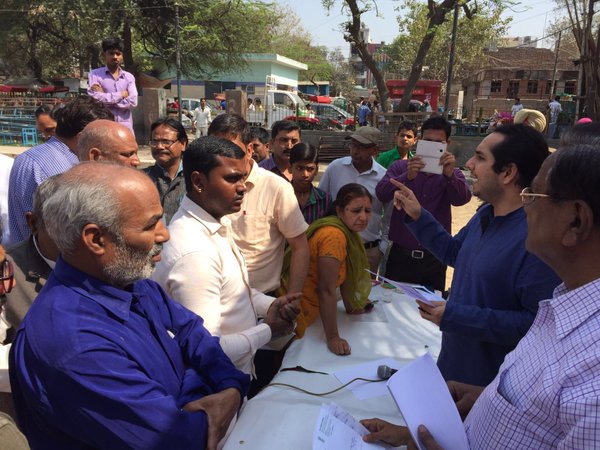 So today, impervious to the blazing heat, residents of Kaislash Nagar and the nearby areas came with their grievances and every person's complaints against the Government functioning or any social issue they were facing were catered to on the spot. The thing which boggled my mind was that it was Mahesh Girri Ji himself who listened to the residents' pleas or complaints and made the respective department to attend to the issue without any ado. The department official was made to give in writing the date by which the task will be done.
Not only this, the Chaupal was also a platform for people to get enrolled in any available government scheme, be it the pension scheme for the Handicapped or for Widows. Besides, people also got a change to register for obtaining any Government document or identity proof, namely Aadhar card, ration card among others.
The highlight of the event was Mahesh Girri Ji's announcement to build a multi-level parking in Gandhinagar from his MPLADS fund.
Girri Chaupal has not only been successful in redressing the grievances with 100% fulfillment but has also built people's faith in the Government.  With his integrity and willingness to serve the people, Mahesh Girri ji has sent a strong message to all the Ministers of the country to realize their duty towards the people.
P.S. To all the dozy and irresponsible Government officials, kindly wake up, your days in the system are limited.