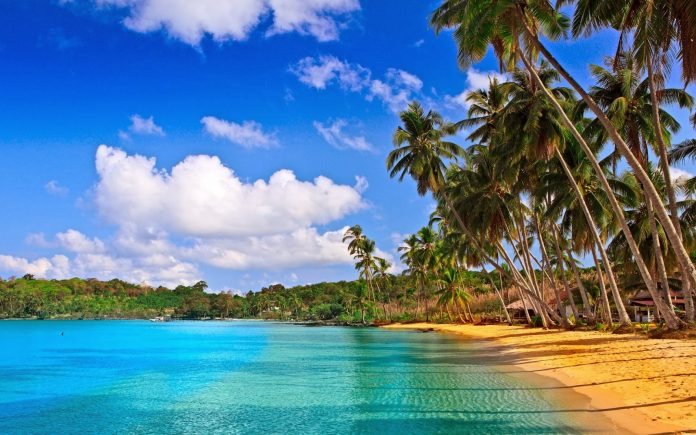 Goa is the smallest state of India surrounded by Maharashtra to the North, Karnataka to the East and South, and Arabian Sea to the Western Coast. From beaches to beautiful sceneries, to loud and sumptuous parties, Goa is contemplated as one of the most attractive and the richest states of the county.
Goa is not the spot to visit once and cross off from your list.  After the first visit it turns into a desire and after the second a tradition! Goa has got so many charming world that even the popular seasoned travellers can't make the best of their Goa Holidays.
So here is the list of the places you must visit when planning for a GOA trip.
TOP BEACHES TO VISIT
1. BAGA BEACH
It is the most famous and crowded beach of Goa known for stunning nightlife, beach parties and mouth-watering seafood delicacies. For people who enjoy around drinking and dancing to pulsating music, all against impressive backdrop, Baga beach is must go!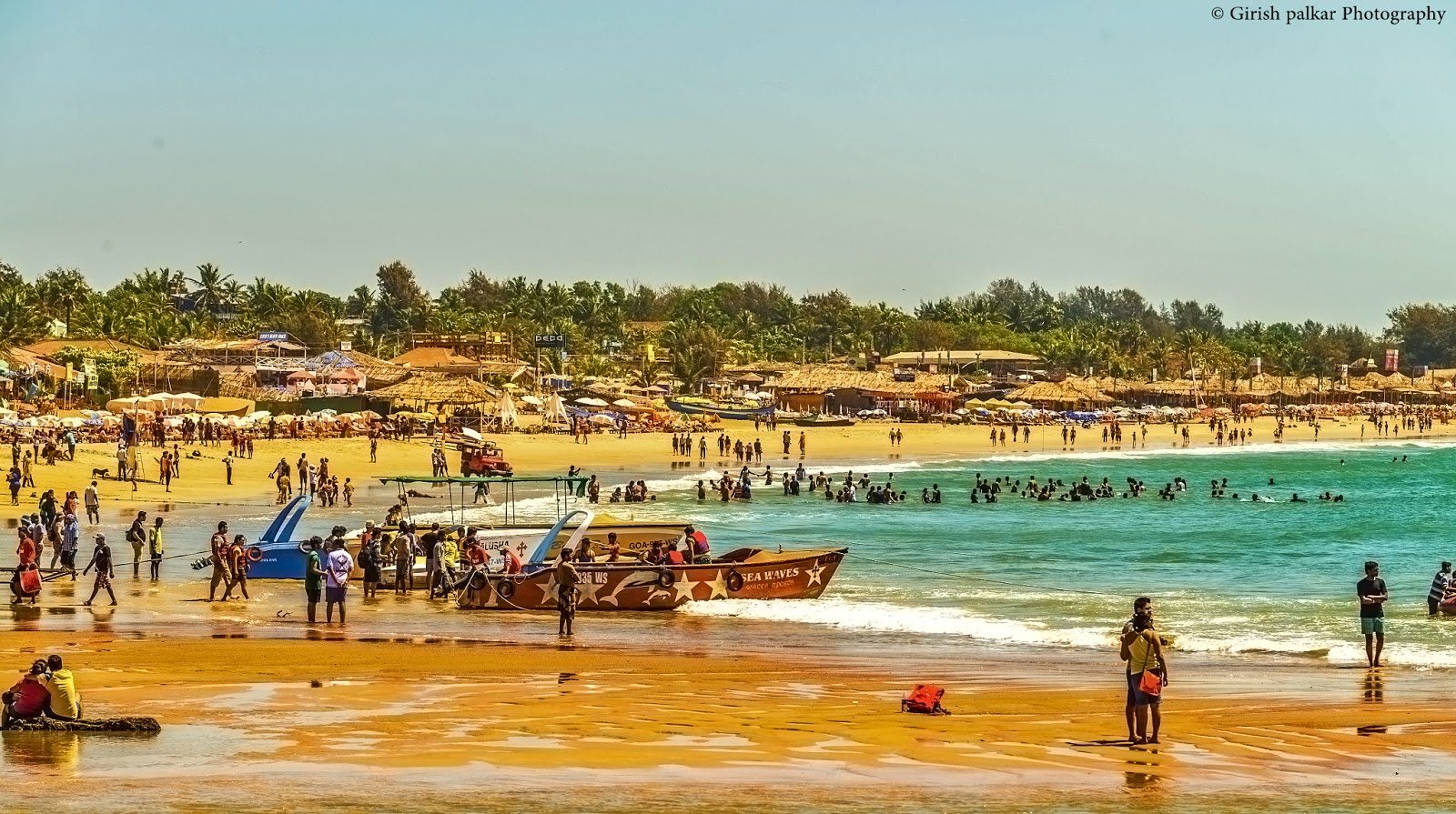 image source flickr.com
It is famous for Shacks serve, authentic seafood and local drinks with foot tapping music, and create a perfect atmosphere of enjoyment and excitement.
Apart from this Baga beach is filled with various water sports like parasailing, banana boat riding, jet-skiing, etc.
2. CALANGUTE BEACH
It is referred as the Queen of Goa Beaches, famous for its golden shimmering sand offering authentic Goa cuisine and drinks. The distance between Baga beach and Calangute beach is around 2kms, so you must visit both of them. Calangute beach is famous for its uber cool clubs, restaurants serving Goa food, and a lot of shops selling colorful Goa apparels ensure its spot among the best beaches in Goa. I suggest you to go to this beach once during night hours as it is mesmerizing at night with soothing sound of the tides.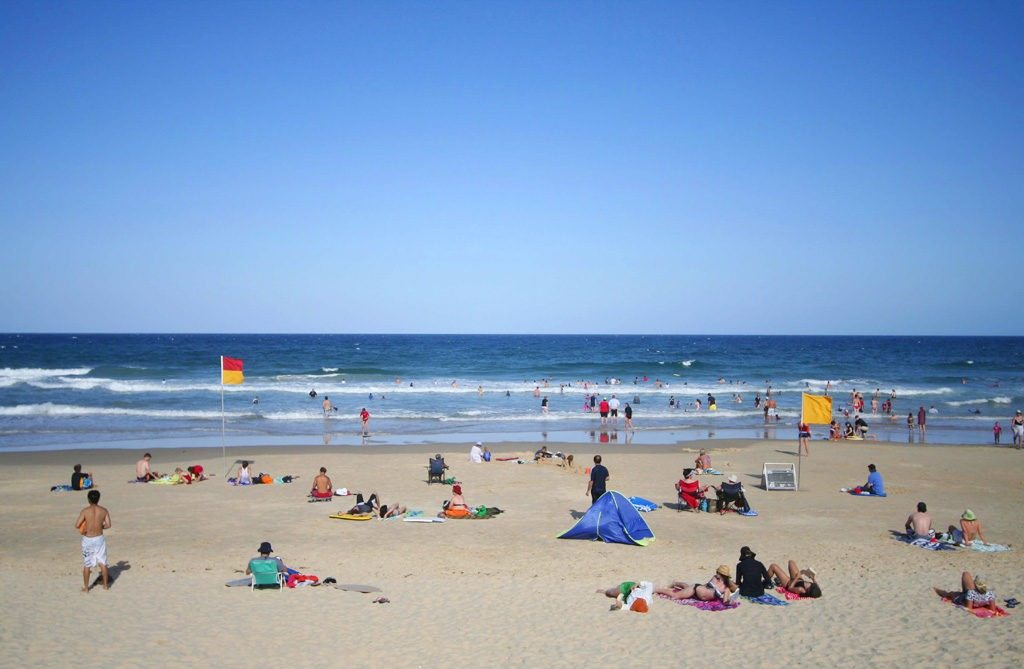 image source tourism.com
3. COLVA BEACH
Favorite among the domestic Indian tourists and day-trippers is the Colva beach. It gets particularly busy in October when groups of pilgrims come and visit Colva church. One best thing about Colva is its white sand with coconut trees all around makes it appear extremely beautiful in the morning hours (5:30-8:30). For people who love peace and quiet environment must visit this spot.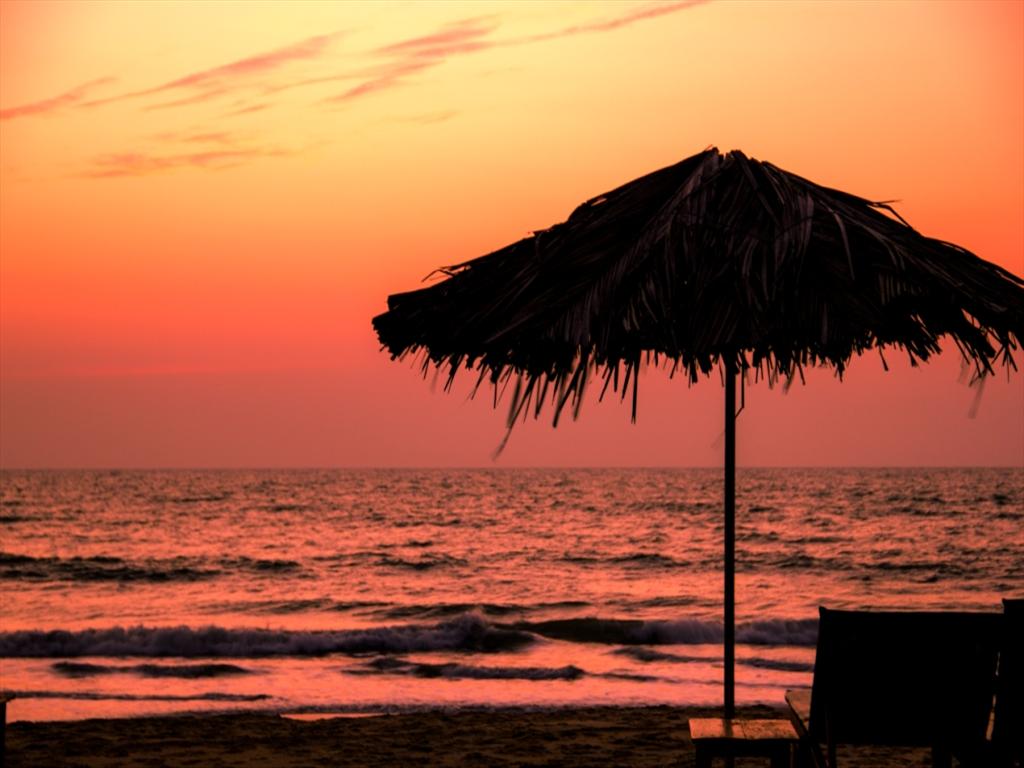 image source tourism.com
4. Clubs
Goa is known for its intoxicating nightlife. In fact, renowned night clubs in Goa such as Club Cabana, Love Passion karma (LPK), Cafe Mambo and Titos have even become part of the sightseeing tour to an extent. So the insomniacs, party animals and other noct beings can look towards to roaring times at the nightclubs in Goa.
image source tourmyindia.com
5. Churches
BASILICA OF BOM JESUS
It is a part of UNESCO World Heritage Site, also known as St. Francis Xavier's Church. You will find the interior of the church eye-catching, it's a must visit place.
Timings: Mon-Sat 9 a.m.-6:30 p.m.
Distance (From Panjim Kadamba Bus Terminus): 9 kms
image source tourmyindia.com
SE CATHEDRAL
The church is situated in Old Goa, opposite to Basilica of Bom Jesus and is considered to be the largest church in Asia. This place is also a part of UNESCO World Heritage Site (Churches and Convents of Goa). The 15 altars which are dedicated to Our Lady of Three Needs, Our Lady of Hope, or Our Lady of Anguish draw the attention of the viewers.
Timings: 7:30 a.m.-6 p.m. on all days
If you visit Goa I recommend you to visit these Churches, they're a must see sculpture.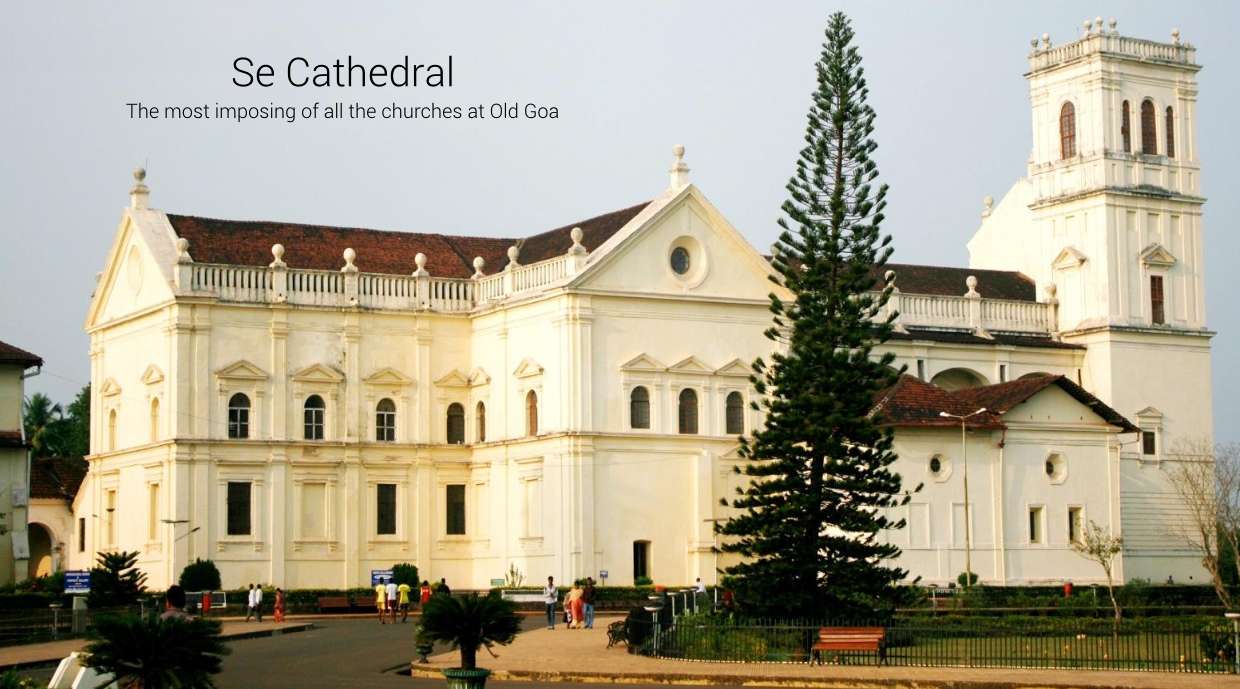 image source wikipedia
6. Aguada Fort
The excellent Fort of Aguada was built to keep the passage of boats into the River Mandovi in this way shielding old Goa from the assaults of Dutch and Marathas. A central jail and the first ever lighthouse in Asia built during the 19th century are also located near the fort.
Timings: 9:30 a.m.-6 p.m. on all day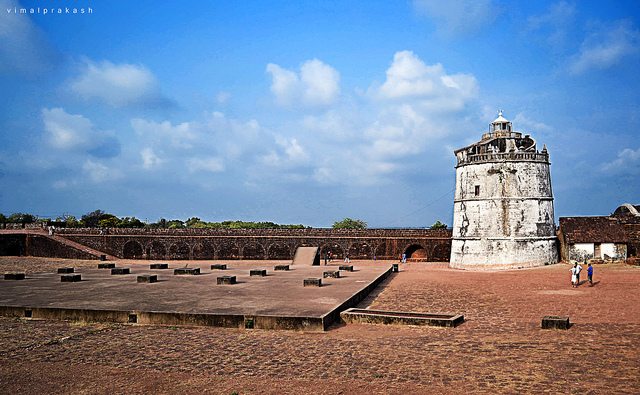 image source wikipedia
7. Dolphin Drive
On your way to Aguada Fort, you can choose for a dolphin drive in the afternoon. The dolphins are better sight in reality than on Animal Planet! It is a 45 minutes ride over a boat for just Rs 250.
Dolphins pepping out of the Arabian Sea around your boat in a graceful motion is best savored by eye and saved on camera. It also includes various film shooting sights such as- the 80 crore bungalow used in the shooting of the film Haseena Maan Jaayegi, lighthouse used in movie Dhoom2, central jail used in movie Qayamat, etc.
image source wikipedia
8. Dona Paula
The major attraction of the area of Dona Paula is its beach, fringed by palm and casuarinas trees. The beach offers the opportunity to choose for water sports like jet skiing. Dona Paula is a place famous for shopping which includes T-shirts and shorts of low cost. Of the films shot here, the most famous is Singham, Ek Duje Ke Liye.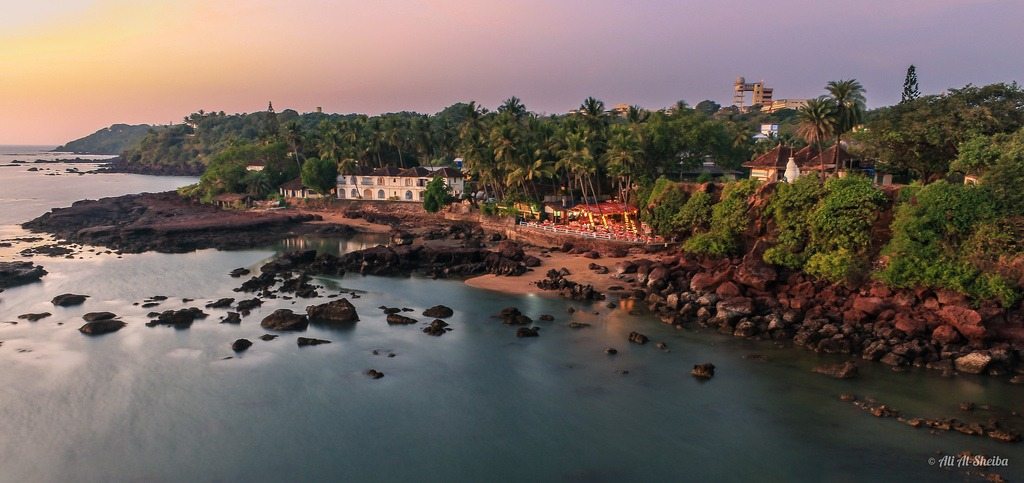 image source tourmyindia.com
9. Mangeshi Temple
It is located on a hillock at Mangeshi village in Priol, Ponda Taluk of North Goa. It is one of the largest, wealthiest and most popular Hindu shrines in Goa. In the temple of Mangesh is a prominent Nandi Bull which is the Vahana (Vehicle) of Shiva. The Deepastambha is an eyes catching structure; it is a seven storey octagonal lamp tower. The main event during the annual festival is the Ratha Yatra or the pulling of chariots.
Timings: 6 a.m.-10 p.m.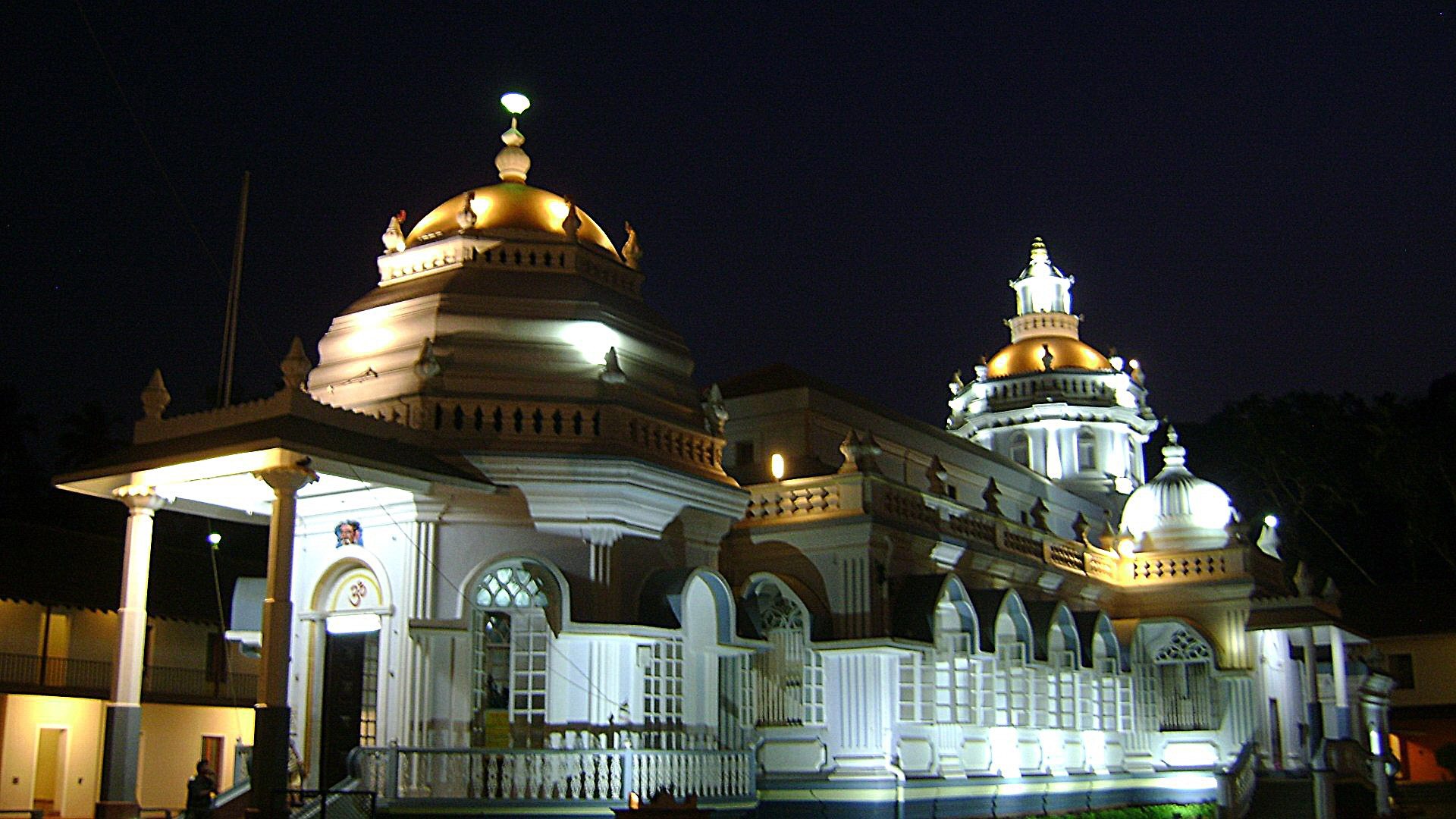 image source tourmyindia.com
10. Arvalem Falls, Sanqueilm
This little falls in Goa is located within the premises of a temple-very eye-catching and inviting.
Arvalem falls is located near the campus of Rudreshwar temple in Sanquelim area, about 30 kms from Panjim city. If you're heading to Belgaum or to Chorlea Ghat, a small deviation at Sanquelim will take you to this falls.
image source goanjourney.com
Downstream is very shallow and is fairly safe and ideal to get into. It was not deep enough to swim in October when we went.