If you are going for your job interview today or tomorrow or even some days later in the future, then you are at the right place to get some unique ideas to impress the interviewer during your interview. Usually when we start preparing for our interview, we only focus and prepare on the things that we will face during the interview. This is where we all get deviated because we think and prepare from our point of view. Thats the problem with us. We are not thinking from the interviewer's point of you. If we think like that then we can easily fulfill the recruiter's expectations. Then automatically the interviewer will hire you. So in this article, I'm going to write about top six things that recruiters expect from the interviewee during the interview.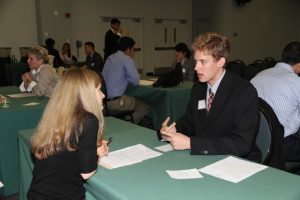 1. DRESS TO IMPRESS
First impression is always the best impression. So as an employee you need to be presenting yourself well and as recruiters, we want people who are dressed professionally and well-groomed (Read : How To Groom Yourself For An Interview For Men & Women to get some tips) because if at all you are taken into the company, your physical appearance also reflects the status of the employee of the company.
2. SHOW YOUR MAXIMUM IN YOUR COMMUNICATION SKILLS
We recruiters are looking for an employee who can show case their communication skills because in present day's competency there is more to deal with people than to deal with work. So we are more attracted to the person with good marketing communication skills than to those with good technical skills. We also don't want to entertain the people who use non-professional language like usage of words such as hey, yeah etc.
3. HANDSHAKE – THAT SHOWS CONFIDENCE
Recruiter's starts noticing from the very first moment you entered into the interview room and then the handshake will be the very first physical interaction with the recruiter. Firm and supportive handshake in which both of your hands (yours and recruiter's hands) will be parallel to each other clearly shows that you are a pretty confident person. To show up your confidence, never try to put your hand on top of recruiter's hands because that kind of handshake shows that you are an aggressive person. Shaking your hand like a dead fish or a weak handshake makes recruiters think that you are not enough confident and competent person and thus our interest in interviewing you reduces obviously. (Read : How To Face Your First Job Interview Confidently)
4. EYE CONTACT – AN ESSENTIAL ACT
Eye contact also reflects the confidence of a person. Not looking straightly into the recruiter's eye makes us think that you are not confident, you are lying, you read it somewhere else, you are covering, you are not truthful or you don't even know the answer. Just maintain a proper eye contact but don't stare into interviewer which makes us quite uncomfortable.
5. SHOW MORE INTEREST ON WORK THAN ON MONEY
We like people who are passionate about their work and career than those who are money oriented. So make sure that you discuss more about work with the recruiter than the salary packages, hikes etc. Because we want people who work for our company genuinely to the salary they are paid than the people who don't work genuinely but wait for their salary on the 1st of every month.
6. ASK GOOD QUESTIONS
If at all we ask you to ask us any questions during the time of your interview, it means that we are expecting some good questions from you. Most probably good questions include questions on the work which you need to do, questions on company, questions related to your profession. If you ask such questions it shows your interest to work with our company. If not, we recruiters think that you don't have much interest to work with us as you are not enthusiastic to ask questions. Asking silly bad questions may also put you into trouble. So ask good questions and make a proper impression in front of the recruiter.
These are some of the things that fulfills the expectations of the recruiters. Follow this to look unique in front of your interviewer. For more tips like this, visit Interview Hacks.
I hope that the above tips will be useful for your job interviews. All the best for all those who are going for their job interview. If you really feel that my article got some worthy contents then share it with your friends circle. Thank you !!!